Kessler believes that life as a 'reinsurance industry guy' is much like that of a monk – both are vocations that never fade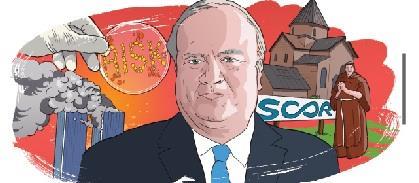 Describe your first day in the reinsurance industry.
I was working in academia focusing on risk when, in 1984, I was invited to join the board of UAP. The letter invited me to the next board meeting. Initially, I thought it was a friend making a joke. I joined the Geneva Association as deputy secretary general, before being made the chairman of the French Insurance Association in 1990. In 1997 I became senior managing director at AXA. I joined Scor in November 2002. I was offered the position of chief executive/chairman on a Sunday and by the following Tuesday I was chairing the annual meeting.
What has been your greatest achievement at Scor?
Turning around the company was a hell of a job. Within 14 months I oversaw two rights issues, a restructuring and a change of underwriting. I put half of the book in runoff and changed senior management. Everything at Scor has changed since then, except the name. It is easier to create a company than to turn one around. To take one over you have to make tough decisions such as fighting with banks and seeking new investors – while keeping your clients.
Describe your most memorable meeting.
It was during the 2001 Monte Carlo Rendez-vous. I was on a panel one morning discussing the future of the industry. It was sunny, not a cloud in the sky; the attendees were quite optimistic and the future was looking bright. Three hours later, we received the news that the World Trade Centre had been attacked. I knew many people in those towers – including all of the Scor team. What had started out as a positive day turned quickly to hell.
What is the best thing about working in the (re)insurance industry?
There is always a new risk emerging. I like risk as a topic; it stimulates me. It was my destiny to work in this industry. I treat risk like a scientist: I neither love it nor view it with aversion; I am risk-neutral.
Who do you respect in the reinsurance industry?
I respect all people who work in the industry, particularly Hank Greenberg (chairman and chief executive of Starr Insurance Holdings) and Claude Bébéar (founder of AXA).
If you could change one thing about the industry what would that be?
Nothing needs to change as long as we stay in a situation where the winners win and the losers lose.
What makes a good chief executive?
If you are a perfumer you need to love perfume, if you are a cook you need to love food. It is an incredible investment, both psychologically and personally, to become a reinsurance industry guy. Entering the industry is like entering a monastery; it takes over your life and you are unlikely to ever leave. The industry is all about risk, so in my opinion a good reinsurer is an old reinsurer. There are no young 'golden boys' in this industry, unlike banks and hedge funds. To be a good reinsurer you need to be confronted with many issues, cycles, market difficulties, large claims and long negative trends. If you have not been through a terrorist attack or a liability crisis you do not know how to react when such a crisis happens.