Guy Carpenter president and chief executive looks back on his career and shares his expectations for Monte Carlo 2014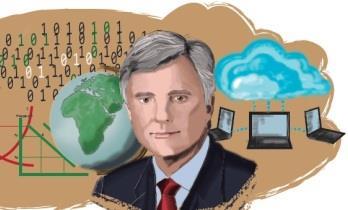 What do you know now that you wish you had known when you began your career in the industry?
I studied economics and social studies while at university. Looking back, if I had known then that the insurance industry was so interesting, complex and innovative, I would have concentrated my education on risk management or actuarial science. This focus would have provided me with a greater advantage early on in my career.
Whom do you admire in the industry?
The insurance industry has been responsible for many great contributions to society. Throughout history, these achievements have been made possible by visionary leaders. These titans have contributed significantly to the profitability of their companies, served the communities in which they operate and upheld the highest ethical standards. During my career I have been fortunate to work for outstanding leaders and mentors who embody these qualities. I greatly admire these innovators, (they know who they are) the impact they have had and their many accomplishments. Posthumously, I would include Cornelius Vander Starr, Henry W. Marsh, Donald R. McLennan and Guy Carpenter.
Describe your first day in the industry.
On my first day in the insurance industry I travelled from London to New York. This trip served as a precursor to a career in which I have been able to develop an international perspective on our industry. Since that first trip in 1979, I have had the opportunity to both oversee international businesses and live in several different countries. Through these experiences I have gained an understanding of both the local needs of our clients and the market dynamics confronting them around the world.
What do you think are some of the biggest challenges facing the industry?
There are many market dynamics driving change in our industry including new capital sources, technological advancements, emerging risks and regulatory changes.
The recent influx of new capital entering the (re)insurance industry represents one of the largest changes to the sector's capital structure in recent memory. During the last 18 months, more than $10bn of new capital has entered the global reinsurance market. Capacity emanating from alternative markets now accounts for roughly $50bn, some 15% of global property catastrophe reinsurance limit.
There are many regulatory and rating changes currently underway. For example, in 2014, AM Best will introduce stochastic modeling of various BCAR components to generate capital charges that more accurately reflect company risk. As a result, insurers will be challenged by changing capital requirements and related "stress tests" for natural perils – which will require more rigorous capital modeling and may reduce their risk appetite or increase their need for reinsurance.
There has also been a sharp acceleration in the pace of technological change that is being driven by cloud computing, big data, predictive analytics and mobility. Technology and capital are converging to create a disruptive dynamic for risk selection and transfer. While keeping pace with these advances is challenging, the adoption of next generation and emerging technologies will become even more essential for competitive advantage.
Emerging risks such as cyber, climate change and terrorism present new and serious threats. These not only have the capacity for large losses, but the potential to trigger costly secondary impacts such as a breakdown in supply chains, reputational damage and disruption of power supplies, to name a few. Evolving threats such as pandemics, new alternative energy sources and nanotechnology are all being closely monitored in an effort to better understand the future challenges they may present.
As an industry that enables risk taking that is essential for economic growth and entrepreneurship, we have an obligation to address the challenge of closing the gap between insured and uninsured losses. It has been reported that 70% or $1.7tn of natural catastrophe losses between 1970 and 2012 were uninsured. The creation of private sector solutions will provide economic stimulus, affordable protection for individuals and relieve the burden on public finances.
These market dynamics will require insurers to understand the challenges and opportunities that they are facing now and in the future.
What do you look forward to at this year's Monte Carlo rendez-vous?
Every year I look forward to spending time with our clients and markets. The rendez-vous provides an excellent forum for idea exchange and to debate the latest market trends and topics of critical importance to our industry and our clients. I believe this year's discussions, as a result of the significant market developments currently underway, will prove thought-provoking and help us lay the groundwork for future innovations.
What does the future hold for reinsurance brokers?
As discussed, there are many factors driving change in our industry. There are more choices for insurers, and as a result, the role of the reinsurance broker has become increasingly more important and complex. As the rate of change to the structure of the (re)insurance industry accelerates, it presents opportunities for those companies taking a strategic approach.
To meet these evolving needs, reinsurance brokers must continue to deliver specialised line-of-business expertise and leading product innovation while at the same time meaningful advice on a broad range of critical business issues.