Roger Bickmore hosted a GR roundtable discussion at SIRC 2018 on the links between Asian reinsurance and MENA business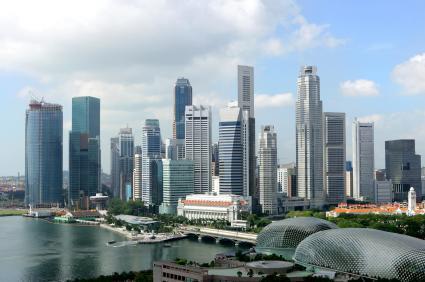 Singapore and Dubai have much in common as regional hubs of reinsurance business, and many Asian reinsurers are doing Middle East and North Africa (MENA) business to broaden and diversify their books. That was the buzz at a roundtable discussion hosted by Roger Bickmore for GR at SIRC 2018.
Both regional reinsurance hubs have sought in their development to attract talent from their wider neighbourhoods, as well as from London in the case of Dubai, and to a lesser degree from Australia in the case of Singapore.
"Both jurisdictions learn quickly and are always upgrading. The way the regulators in both jurisdictions have worked to drive improvements is also very similar," said Bassem Kabban, group CEO of United Insurance Brokers (UIB).
"The Monetary Authority of Singapore (MAS) has grown the industry very well, without just expecting the talent pool to be there," said Marcus Taylor, head of reinsurance for Asia Pacific at Ed.
"You have to do the right things to attract talent as well as build your own talent. It's not a Singapore reinsurance market, we work in a global industry," he added.
Politics is one aspect not shared by the two regions. MENA's ongoing instabilities are well known, which adds to the challenges of the region, as well as putting increased focus on a relatively stable regional hub such as Dubai.
"You've got to link the political environment to the business environment. These are challenging times, and it is also period of consolidation," Kabban said. The UAE, for example, has more than 60 local insurers, despite having a relatively small domestic market.
Kabban noted increased demand for cyber covers in the Middle East. "Recent losses have highlighted the importance of cyber covers. People are buying, although usually not large limits.
He linked this with directors' and officers' liability (D&O), suggesting companies need to demonstrate that management is taking the right steps.
Middle Eastern takaful could learn lessons from its Asian counterparts, suggested Malcolm Fonseca, head of retrocession at Bahrain-based reinsurer Trust Re.
Takaful business has been more successful in Malaysia," he said. "In the Middle East there is less focus on the mutualisation principle and more conflict between the shareholders and policyholders."
All three agreed that MENA cedants are increasingly looking to reinsurance as an alternative form of capital rather than seeing it as just a cost.
Asia's national reinsurance companies are also keen to look to MENA as a low catastrophe risk diversifier to their cat risk exposed books – provided a profit can be made.
Fonseca noted, for example, that national carriers such as Korean Re, Malaysian Re and India's GIC Re were doing some MENA business.
"People recognise that if they write business only in Asia there is huge cat exposure with not enough spread," Kabban continued.
Taylor added: "It just needs to be profitable, and they're not just writing MENA, but also Latin American and even US business."
Fonseca noted: "Asian reinsurers need to understand that MENA retentions are far lower."
More MENA cedants need to move from buying "out of favour" low margin proportional covers, and move towards excess of loss protection, panellists agreed.
The Dubai World Insurance Congress (DWIC) 2019 takes place on the 27 and 28 February next year.