When RenaissanceRe announced it was acquiring Tokio Millennium Re for $1.5bn it was just the latest in a series of deals that have been reshaping the reinsurance sector over the past couple of years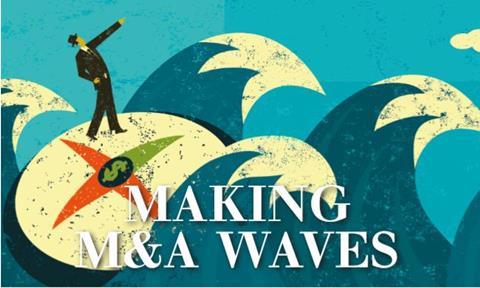 This year has been particularly busy for mergers and acquisitions (M&A) with a recent report from ratings agency Standard & Poor's estimating there were $48bn of transactions in the first half of 2018.
In terms of size the standout deal was Axa's $15bn acquisition of XL Catlin, although the trend for M&A has been notable for its frequency as well as its volumes.
Last year ended with Axis Capital's acquisition of Novae while this one began with AIG's $5.6bn takeover of Validus and we have also seen Apollo Global Management pick up Aspen and Markel buy out Nephila Capital.
Renaissance Re says that it will acquire Tokio Millennium, the reinsurance arm of Tokio Marine, in order to "increase our scale, broaden our reach" and this reasoning reflects a key element of the strategy driving the current trend for M&A.
It is a drive towards larger scale that has been caused by reinsurers having to chase fewer risks in a softening market. Another factor has been a period of historically low interest rates, which has put a lot of pressure on investment income, a major driver of reinsurer earnings.
"Returns are not where they used to be and they are not expected to return to the double-digit return on equity type years where you would have large cat events coming through and pricing would respond in kind.
"That enabled the reinsurers to revamp their business and make the expected returns in the years where there were limited catastrophes and take them through the years where there were big losses," says Brian Schneider, senior director, insurance at Fitch Ratings.
"We certainly saw some big losses coming through last year and that has pushed some reinsurers to realise that they can't go on as they have in the past as pricing did go up, but was dampened by other aspects. It has only further pushed the concept that smaller reinsurers really will find it difficult to remain independent, as we've seen with Novae, Aspen and Maiden Re being taken over. It was difficult for them to remain independent in their current size.
"The larger players are also considering whether they need to be even larger entities. We've seen that with XL getting bought by Axa which is an example of a large, established company looking to increase their size, scale and footprint in the market. There have been multiple factors that have changed the market and it really depends on whether you are a small, mid or larger player as to how they react to the changing environment."
Economies of scale
Although the drive towards larger scale has been a key strategic driver it is not the only reason behind M&A activity in the reinsurance industry. Every deal has had its own individual characteristics with the acquirers of businesses buying them for their own particular reasons.
"If you look at Axa-XL they're seeing the basis of their business, which is personal lines business, effectively commoditised. Therefore moving to more specialty lines, which is harder to commoditise so that is attractive for them. Also, the geographical footprint of XL was slightly different to Axa's. It has also been a huge capital benefit for them because of the diversification within their business model," says Kevin Timmons, chief executive at JLT Advisory.
"Similarly, the Validus and AIG deal had diversification across products and that was certainly something AIG was looking for, probably more with the Talbot part of the deal. There's access to more products and that's what they're looking for. It is diversification of product, diversification of business."
The AIG/Validus deal and Axa/XL deals are notable because they are two major primary insurance groups that are entering the reinsurance space. This is a reversal of the trend of the late 1990s and early 2000s that saw insurers shedding their reinsurance units.
"A lot of things have changes in the intervening period. Back then it was the volatility of the reinsurer results that was causing problems for the CEOs of the big primary insurance groups. These days that volatility is significantly less- that was demonstrated by the losses last year and the fact that the industry proved itself to be very resilient in the face of those losses," Mike Van Slooten, head of business intelligence at Aon Reinsurance Solutions.
"Big primary insurance groups are looking to gain expertise and they're looking to broaden their offering to a bigger range of potential clients. They are also very attracted by the ability to channel alternative capital."
The arrival of the capital markets to reinsurance in recent years has been another driver of consolidation. Alternative capital sources have provided significant capacity for some time now and questions over whether those sources would stay in the sector and reload the capacity after a big loss have been answered following last year's hurricanes.
There is now acceptance that reinsurers will need to continue competing against alternative capital but some traditional carriers have decided that they need to be involved more directly in this part of the market. Most significant was Markel's acquisition of Nephila although AlphaCat was undoubtedly part of the prize for AIG when it bid for Validus and XL's New Ocean segment would have been a bonus for Axa.
"What we have seen latterly is a growing sense that convergence capital is now more resilient and more likely to remain invested in the sector than was previously envisaged. Somebody like Markel acquiring Nephila gives some credence to the view that reinsurers are looking to work with and adapt their business models to coping with the presence of alternative capital," says David Masters, director, S&P Global Ratings.
"Given the role that Nephila played as the world's largest investment manager specialising in ILS that provides Markel with an additional revenue stream of managing that pool of alternative capital."
Paying a premium
Although this trend for M&A would indicate a sellers' market, which in turn might be expected to push book valuations higher, the reality on the ground has seen a more nuanced prices agreed for takeovers.
A bidding process drove the premium Axa paid for XL up to 1.5x book value, although this itself was down from the 2x book value some Asian buyers have paid in recent years. By contrast Apollo managed to secure 1.1x book value for Aspen after lowering its bids twice on the loss-making carrier.
"Despite reducing levels of reinsurance profitability in recent years one of the key points of interest in terms of price to book ratio is that they've generally been trending upwards. Some of the smaller groups with smaller balance sheets have been trading significantly above par, in many cases above 1.2x price to book. One of the key reasons behind that differential is the embedded takeover premium built into the share price of some of these groups," says Masters.
The trend towards fewer, larger reinsurers gives those companies a bigger presence and more pricing power. It may also mean more disciplined underwriting, better risk management functions and wider diversification. However, it is also possible that the increased concentration of capacity will mean less choice for cedants who will also have less potential ability to diversify their exposure to reinsurers.
"It does mean fewer, larger companies but it is still a fairly fragmented marketplace. Certainly, if you compare it to the life reinsurance market where there's a much higher degree of concentration," says Van Slooten.
"There's room for further consolidation without it really starting to impact on the choices that reinsurance clients have. It could get to the stage where it goes beyond that but we're not there at the moment."
And M&A looks set to continue with over-capacity, soft premium rates, a squeeze on profits and low interest rates all combining to make it a good time to consider an acquisition. The cost of finance is relatively cheap and the creation of larger scale reinsurers will continue to appear one of the best ways to face the challenges ahead.
So, it looks likely that large reinsurers will continue to target smaller companies, who in turn will join mid-tier carriers in looking for partners. These players may decide that $4-5bn of capital is not enough to continue in the current environment so may combine in mergers of equals to become tier one carriers.
Both the Bermuda and London markets will present attractive targets for acquiring companies while in Europe it is possible that Covea might make a second approach for Scor.
"M&A will continue, some of it will depend on pricing so if businesses are reasonably keenly priced then as returns have reduced then prices for some businesses have reduced and become more affordable," says Timmons.
"I do see bigger and better firms and the key to all this will be growth and expense saving. It is difficult to grow in this market, rates aren't rising as much as people hoped after some catastrophes so if you can make some topline growth and savings on expense ratio that will always be a driver for businesses."