Fears that 'mega-fire' will form in mountains west of Sydney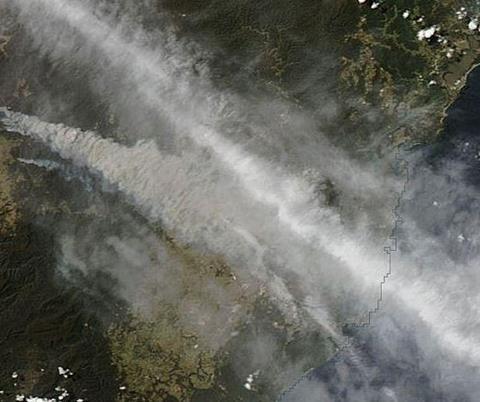 A state of emergency has been declared in the eastern Australian state of New South Wales (NSW), with authorities calling it the worst fire disaster in the region for nearly half a century.
More than 50 bushfires are currently burning across the state, and at least 10 of them are out of control. Furthermore, conditions are forecast to worsen, with Wednesday predicted to be dangerously hot and windy.
There is concern that a 'mega-fire' could spread across hundreds of kilometres near Sydney if some of the blazes merge. A fire with a massive 300km front is burning in the Blue Mountains, west of Sydney, and is heading towards another blaze that has a 60km fire-front.
The Insurance Council of Australia has declared 'catastrophe' status for bushfire-affected regions of NSW and has activated its disaster hotline. A task force has been established to escalate the industry's response.
The bushfire emergency comes at a time when regional insurer and reinsurer capital and capacity was just recovering from the impact of several natural catastrophes in 2010 and 2011.
Chairman of Aon Risk Solutions Pacific Region, Steve Nevett, said that the "relatively clear run" experienced over the past two years in Australasia had helped the market find its feet and apply its growing capacity to underwriting new risks and expanding product offerings.
"The APAC region suffered terribly due to a string of natural disasters in 2010 and 2011," Nevett said. "With insurer and reinsurer capital and capacity significantly depleted as a result, there was limited opportunity for innovation and development, despite the clear need for new solutions as industry risk profiles change."
The ongoing bushfire crisis in NSW will be closely watched by insurance analysts as it threatens to adversely impact on the industry.