Singapore's minister of finance addressed SIRC 2018 as the official keynote speaker and guest of honour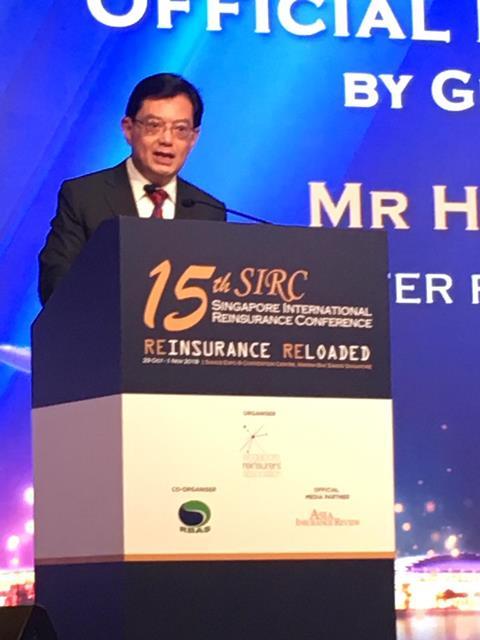 Heng Swee Keat, Singapore's minister of finance, said that 60% of Asia's corporations do not have proper cyber cover in place.
Heng also serves as the chair at the Association of Southeast Asian Nations (ASEAN), which has set three goals – to sustain growth, boost resilience and foster innovation.
He told the audience that ASEAN is working with the re/insurance industry to address these risks and at narrowing the protection gap.
Cyber-crime cost the global economy $3trn in 2015, expected to double by 2021.
Asian organisations still take 1.7 times longer than the global average to discover cyber breaches.
He said that "more needs to be done" to strengthen ASEAN's cyber threat resilience.
The speech was used to announce the formation of the "world's first" commercial cyber risk pool in Singapore, initiated by the Singapore's Reinsurers' Association.
Heng said that to achieve a reduction in cyber-crime, "we need to think further ahead" to develop pre-emptive solutions.
Last month an ASEAN "centre of excellence" for cyber-security was launched in Singapore.
Heng explained that this reflects Singapore's stance as a "specialty insurance hub" and its commitment to drive forward-looking insurance solutions.
He warned that to make "further impact" it would require thinking ahead to tackle long-term challenges.
He urged delegates to participate in its joint effort to develop better risk models to price cyber risks appropriately.
Heng added: "As Asia continues to transform into a knowledge-centred technology based and innovation driven economy, new risks will continue to emerge."