Australian Insurance Council says 725 claims have been received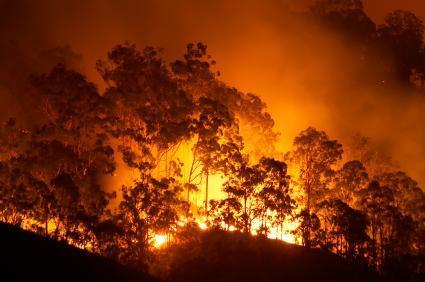 Insured losses from the Tasmania bush-fires have increased to A$69m ($73m).
The Australian Insurance Council said that 725 claims had been received by insurers, but added that number is expected to grow.
More than 130 homes have been destroyed by the fires and several farming and commercial properties have been affected.
A spokesman for Suncorp said the insurer had received 370 claims for full or partial property loss, amounting to A$23.8m.
Very hot conditions in NSW and Victoria right now so we'll be watching those states over the coming days.
A spokesman for Australian insurer AAMI said his company had received about 270 home and 40 motor claims, totaling just over A$20m.
A spokesman for IAG said the insurer had nominal exposure to the fires.
Four of Lindsey Cunningham's adjusters were granted access to some of the worst-affected areas under police escort last Thursday. The areas were opened to residents on Friday afternoon.
Cunnigham Lindsey regional leader for Tasmania Craig McLeod, who was on the ground, reported from Dunalley, 50km east of Hobart: "It is remarkable how selective the fire seems to have been, with some homes almost untouched while their neighbour has been totally destroyed."
A Cunningham Lindsey spokeswoman said that the loss adjuster had responded to all claims received and adjusters are in the final stages of site visits. She said the customers who have not been visited are either not available or are too severely traumatised.
The loss adjuster said the main areas affected on the Tasman Peninsula included Forcett, Dunalley, Copping, Murdunna, Connellys Marsh, Boomer Bay, Primrose Sands, Susans Bay, Eaglehawk Neck and Taranna.
A small number of claims were received as a result of the bushfire in the Ellendale area, north of Hobart. Losses include a mixture of total and partial losses to homes with some commercial properties also affected. The Tasman Peninsula is still without electricity supply and Aurora Energy are working to restore power lines.
Cunningham Lindsey said it was also receiving claims for both domestic and rural losses in the Ballarat area and claims for damage to farm infrastructure and livestock in the Bookham/Yass areas in New South Wales.
A bushfire was reported in the Warrumbungle National Park, west of Coonabarabran, on Sunday.
According to media reports, the cause of the fire was most likely from lightning strikes, but enquiries are ongoing.
Despite efforts of the Rural Fire Service, the fire has continued to spread due to strong wind gusts, extremely high temperatures and a high fuel load of grass and trees.
The fire has continued to burn, uncontained for several days and authorities have co-ordinated an evacuation of affected residences in the Bugaldie and Coonabarabran areas.
More than 40,000ha of bush and farming land have been burnt by the fire and in excess of 30 homes and 50 sheds have been destroyed. There has also been extensive livestock and farm fencing loss.
Cunningham Lindsey has put its adjusters on standby to help clients.
The council will give an initial loss estimate for the New South Wales fires next week.
The region around Coonabarabran and the Warrumbungle National Park has been declared as a catastrophe. It is the second catastrophe declaration of 2013 after Tasmania.
Australian Insurance Council chief executive Rob Whelan said the catastrophe declaration means that insurers have set up a taskforce to escalate the industry's response and improve coordination with governments and emergency services.