Insurtech drives are increasingly incremental, favouring marginal gains via short-term fixes rather than grand plans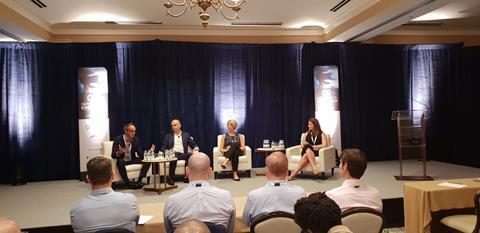 Technology plans are being rolled out at pace despite a busy and changing re/insurance market in 2017 and 2018, panellists told GR Innovation & Insurtech 2018 in Bermuda.
Re/insurance firms are looking to technology to increase revenues as well as reduce operational costs, according to the panel on "a changing re/insurance world".
Laura Taylor, Nephila Capital's chief financial officer said the company was more focused on driving growth than finding business savings.
"Really we're looking at revenue growth, about how we grow top line and keep expenses constant," said Taylor. "We're much more focused on revenue generation than on cost savings."
Stephan Ruoff, CEO, Tokio Millennium Re, noted that the industry is moving towards some common tech platforms, pointing to Lloyd's in particular, but adding that this has been "slow" and "transactional", rather than a fuller focus on artificial intelligence (AI).
"We're not seeing AI driven more broadly. We've not seen proper portfolio selection done by AI deeper than our own knowledge or drawn by data deeper than what we're using today," said Ruoff.
"For every executive management board, technology should be high up their list of priorities," he added.
John Racher, head of UK operations at AdvantageGo, said there were not many big technology deals going on.
"We get more requests to augment what's already there and to provide discrete components. The projects we're seeing interest in are not transformational deals," he said.
Racher thought firms are not looking at short-term technology projects to produce marginal gains here and there, rather than an over-arching long-term strategic overhaul.
"It is looking at the long term but the way to get there is to look at short-term fixes," said Racher.
"Associated with that we are seeing a lot more technology partnerships…to make that change rather than a company building something on its own," he said.
Ruoff said Tokio Millennium had built a cloud-based ILS portfolio platform, which "bought down operating cost significantly".
He suggested firms should not need to think about how their platforms are handling data for risk selection and optimising portfolios. "It should just do it, it's just an enabler," Ruoff said.
"I worry that we're still an industry that looks backward about how to fix how it's operated in the past. We should be forward looking, and looking to our data for risk selection," he added.
Personal lines space are viewed as more technologically developed than the commercial lines space, Racher noted.
"At AdvantageGo, we're investing in more some of the more innovative technologies, but the take up is a lot slower," he said.
Racher described a dive towards underwriting discipline that is putting emphasis on what technology can do.
"Underwriters want to have the very best technology to achieve that," he said.
"Clearly there's pressure on capital and top line growth, the market is soft, and underwriting discipline is at the very top of priorities," Racher added.
Despite the tough market environment, tech spends are sometimes not disciplined as they ought to be, Taylor suggested.
"A lot of companies make these technology investments but don't do a true analysis," Taylor warned.
"They should be doing a cost/benefit analysis with a five-to-ten-year timeline to focus on making their money back," she said. "They should be asking 'how can I use this efficiency to make more money?'"