James Vickers speaks at fourth GR Executive Briefing in Dubai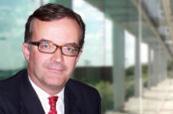 New distribution channels and disruptive technology are two of the most important challenges to the Middle East (re)insurance sector, according to Willis Re International chairman James Vickers.
Speaking to delegates at the fourth GR Executive Briefing in Dubai, Vickers said that the DIFC and other regional platforms were growing very strongly.
He added that the region also faced various well-known challenges, including excessive competition, low rates and lack of technical skills, especially around underwriting.
But aside from these, Vickers said that the industry also faced more emerging risks.
"I think the other challenge is underdeveloped distribution models," he said. "I think it's easy to say the penetration rate of insurance is low, and part of that is down to us, the insurance industry, as we should be selling more. But the distribution channels are perhaps in some areas a little old-fashioned compared to some of the things going on elsewhere in the world."
He explained that insurance is sold through channels such as supermarkets and modern social mutuals in other countries, and that these models could hit the Gulf.
The other big challenge is disruptive underwriting technology, he said.
As an example, Vickers mentioned the growth in telematics motor insurance and the increase in data on customers that it gave insurers. This extra data could be a big competitive advantage to modern insurers and be a challenge to others, he went on.
Another challenge facing the sector is the current interest in investment drying up, he went on.
"If I look at some of the wider issues facing the industry, we have a feeding frenzy at the moment with investors looking towards the sector," he said. "They are buoyed up by what they see are reasonably attractive historic results. But I am reasonably concerned that the underlying business will not produce those sort of returns, and this could lead to a potential underinvestment in the industry."
But the insurance industry also had a "golden opportunity" in protecting the planet from some emerging risks, he went on.
"If you look at the wider global financial industry, the insurance industry is the only one that is disaster resilient," Vickers said.
"If we can take this and move this into the mainstream, not only will it help reposition the insurance industry as an industry which really is providing ultimate societal good, but at the same time it's a huge business opportunity for us.