A large section of Boston's Back Bay area remains off-limits after bomb blasts on Monday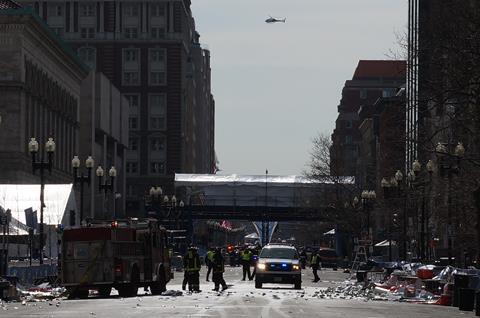 Investigations are continuing following two bomb blasts near the finish line of the Boston marathon. The blasts occurred on 15 April, within 13 seconds of one another in Boston's Back Bay neighbourhood.
A large section of the area remains off limits to all but law enforcement officials and the FBI, which has taken over the investigation, according to AIR Worldwide.
Businesses and hotels located in this section remain closed. Other nearby businesses are open, but security is high and access is hampered by inaccessible streets. This is expected to clear in a few days.
Under most terrorism insurance policies, business interruption losses arising from restricted access or closure by civil authority is triggered only in case of physical damage arising from a covered peril (for example, explosion, fire, smoke) within the designated area, notes AIR. However, the damage need not occur to the insured premises specifically.
The bombs used in this case were likely to be small, portable devices that were by all accounts crudely constructed. Although they were not as powerful as more sophisticated devices, they seem to have been designed to inflict harm to people rather than buildings.
The blasts killed three people and injured more than 100, with over 50 people in serious or critical condition. Most of the injuries were to lower limbs, indicating that the devices were on or near the ground.