Marsh says 'fundamental rethink' needed; JLT argues models should be used more appropriately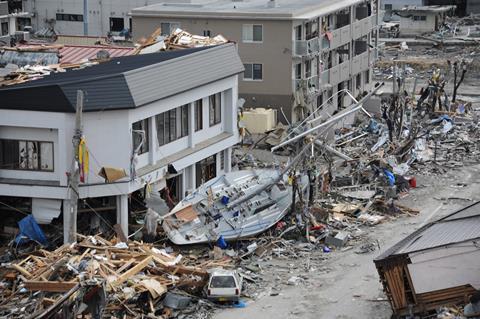 A fundamental rethink of catastrophe models and a review of supply chain risks are needed following the unprecedented string of natural catastrophes in the past two years, according to Marsh.
Marsh's latest Energy Market Monitor report said that natural disasters, including the New Zealand earthquakes, Australian floods, Japanese earthquake and tsunami, Thailand floods and Superstorm Sandy, also highlighted the need for a greater scrutiny of catastrophe limits and contingent business interruption limits by insurers.
But JLT partner and head of business research in London Andy Poulton challenged the view that a fundamental rethink was required.
He said that models needed to be used more appropriately as a tool for writing catastrophe risk instead of being solely relied on.
Poulton's view was backed by catastrophe modelling firm Karen Clark & Company president and chief executive Karen Clark.
She said: "Energy industry exposures are very complex and cannot be captured adequately in catastrophe models. The models give very rough estimates and not answers. Companies would do better to invest in other tools that help them better understand their exposures, and to be more actively engaged in the risk assessment process."
Poulton cited the 9/11 US terrorist attacks, the Deepwater Horizon oil spill disaster in the Gulf of Mexico in 2010, and the Thailand floods in 2011 as unmodeled perils insurers were exposed to.
"A lot of the key issues that we face are an aggregate of a number of different policies and parties involved in a particular event, and you can extend that to supply chain management, business interruption generally, or contingent business interruption," he said.
"That is the real challenge, but it is one that is incredibly difficult to model credibly.
"In any event, you can take a view on it, but we are in such a highly competitive marketplace that it is unlikely that you would get away with charging significant premium to cater for that event should it happen."
Offshore challenges
Poulton said offshore energy was one of several classes of business that was not modeled well as a result of the difficulty in applying the model to the inherent risks involved.
Issues ranged from co-ventures with the same asset, varying asset valuations and supply chain complexities, as well as the damage vulnerability of different structures to different perils.
"Offshore you have the dynamic of moving platforms and drill ships," said Poulton.
"You also have mitigating technology which is robust to wind and surge events, but there are also critical moments in an operation when you may not be able to disentangle or disengage with a well head as quickly as you might want, making you very vulnerable."
The Marsh report said that man-made catastrophes like the Deepwater Horizon disaster had also forced a rethink on risk limits.
The report said: "The dramatic fallout following the Deepwater Horizon blowout has changed, once and for all, the way energy underwriters and buyers look at liability and control of well limits.
"The Elgin Franklin situation in the North Sea last year also identified a new set of potential challenges for more mature fields."
Poulton said the Deepwater Horizon disaster had highlighted the liability and property damage and business interruption risks, particularly with the use of expensive specialist equipment between co-ventures operating in the Gulf of Mexico.
The Marsh study also found that new technology and the shale gas revolution were changing exposures and their calculation. Added to this, insurance capacity was being stretched by the development of bigger and more expensive single floating structures and the revaluation of older assets, particularly in the North Sea.
"All of the above is leading to changing risk transfer needs and requirements for energy assureds, in addition to new pressures for reinsurance and portfolio management for energy underwriters," said the report.
Future applications
RMS' chief research officer Robert Muir-Wood said cat modelling was about learning and responding to events.
He said events such as the Chile earthquake of 2010 and Sandy last year were well modelled for.
"Our loss estimate for Sandy was about $20 billion to $25 billion arrived at by the work we did to reconstruct storm surges which we invested in as part of our RiskLink 11 (North Atlantic hurricane) model," he said.
"The market reacted saying that we were overstating the storm surge, but clearly Sandy manifested that storm surge can be significantly higher impact than other elements of a hurricane loss, so that pretty much vindicated the work we did."
But Muir-Wood said in the case of the 2011 Japan earthquake and tsunami, the cat model followed the hazard estimation procedure produced by the national agencies, who missed the potential for big earthquakes on the Pacific coast.
"If we have no events then clearly it is hard to learn, so the events that do happen are important for us," he said.
"Until they happen, sometimes there are elements of our understanding of vulnerability that cannot be tested until we have a real event."
He said the events of 2011 were a big learning curve, particularly the Japanese tsunami, and RMS was carrying out studies of tsunami footprints of comparable earthquakes in 20 other regions of the world.
Other events include the Christchurch earthquake in New Zealand in 2011, from which RMS is looking at the potential for building differential subsidence as a result of extreme liquefaction in other cities, and the industrial parks exposed by the Thailand floods of 2011.
Impact Forecasting's international head Adam Podlaha said cat modellers needed to focus on providing clients with a range of peril models and tools of different complexity in order to help them meet their regulatory requirements.
He said in particular the gaps of non-modelled perils and territories needed to be filled, such as in Thailand following the floods in 2011, and in Indonesia to cover the threat of rioting, by developing historical and hypothetical scenario models. Impact Forecasting, for example, is working on models for earthquakes and tsunamis in Chile and Japan, wind storms in Europe and terrorism in the UK, US and Germany.
"I think we need to give people more insight into the modeling process," he said.
Podlaha said modellers should be transparent, able to quantify the uncertainties and able to customise models to fit with clients' loss experiences and data, all supported by a platform.