The past two years have provided a steep learning curve in natural disaster claims handling, leading to a more refined approach and before-the-event strategy building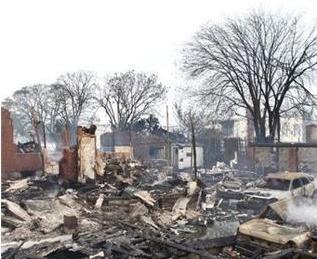 Opportunities to properly reflect on catastrophes are all too rare and, with the tragic events of Moore, Oklahoma still raw in the memory, the insurance industry's constant high alert status is thrown into sharp relief.
The past 12 months has seen claims professionals continuing to tackle the aftermath of several of the most significant natural events in history - the Japanese earthquake and tsunami, Thai floods and New Zealand earthquake, which all occurred in 2011 - in addition to more recent catastrophes such as Superstorm Sandy, tropical cyclone Oswald in Australia and major flooding in Indonesia.
In many cases, thanks to before-the-event scenario and exposure planning supported by pre-nomination of adjusters, claims have been dealt with expeditiously.
Sandy was among the most challenging events of the past 12 months; after the storm had devastated vast swathes of the Eastern Seaboard in November 2012, 600 of Crawford's adjusters handled almost 50,000 claims across 16 states on behalf of dozens of insurers. About 1,500 of these claims were large or complex losses of $500,000 or more. As of 25 February more than 90% of claims had been fully settled.
Challenges of Thai floods
Prior to that recent US experience, the other event that continues to define and redefine catastrophe responses has been Thailand's floods. Crawford adjusters operating out of Bangkok encountered major challenges as the country emerged after weeks of flooding to reveal worrying holes in the global supply chains of automotive manufacturing, electronics and other industries.
In this environment, adjusters were being called upon to provide reserve estimates practically from day one, despite concerns about the ability of contingent business interruption policies to respond. Thankfully these questions are now shaping risk management assessment and the demand for more innovative wordings alongside the continuing need for specialist adjusting.
Sandy adusters held back
A loss adjuster's work doesn't need to be taking place in a remote location to present challenges that test us all. Back in New York City, the intervention of state authorities after Sandy meant the "three-in-a-car" priority system held back adjusters on their way to a site visit, causing delay despite the insurance industry simultaneously facing criticism from those same authorities for the speed with which it was settling claims.
Similarly, those 16 states affected by Superstorm Sandy all operate with unique licensing regimes requiring adjusters to gain authorisation before they were allowed to complete the day job; a regulatory obstacle which was informed by previous experiences in the likes of Louisiana, Mississippi, Florida and Texas following Hurricane Katrina and her forebears.
Helping the industry evolve
With each event, adjusters reflect on their experiences and learn new and better ways to handle claims. However, catastrophe management has taught many that being CAT-ready is above all about ensuring robust business continuity planning is in place, correct response resources and skill sets are available from all the interested parties and alternative supply chain networks are able to respond.
Aligned to this is the need for clarity of coverage, open and trusted dialogue between stakeholders and a deep understanding of how best to tackle the logistical, local market processes including legal, regulatory and cultural challenges that will be faced. Many adjustors have carefully noted where bottlenecks appear and what the major constraints are when settling global catastrophe claims, and this has helped the industry evolve.
Natural catastrophe claims handling is hugely challenging: technically, logistically and culturally. Having experienced an unprecedented 36-month period of catastrophe claims around the world, brokers and risk managers now have a unique opportunity to consider their position and address gaps in areas such as pre-nominations and scenario planning.
Clive Nicholls is senior vice president of global markets at Crawford & Company