By virtue of his job title alone, Lloyd's performance management director Tom Bolt is a formidable character. But there's no reason for the industry to fear him … too much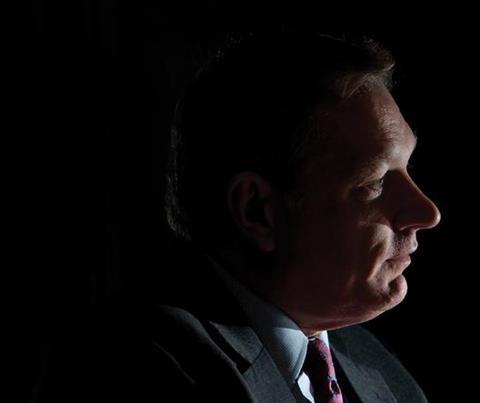 Perhaps Tom Bolt has better things to be doing. During his conversation with GR in the crowded lounge area of the lavish Brenner's Park Hotel in Baden-Baden, the Lloyd's performance management director is constantly looking around and checking his BlackBerry.
At one point he spies his lunch appointment out of the corner of his eye and breaks off the interview to wonder why he is wandering around. All this activity gives the initial impression of a lack of interest and a strong desire to be elsewhere. But it soon becomes apparent that he simply has a highly active, inquisitive mind, and is on a constant lookout for stimulus and input.
As if confirming this, when we ask Bolt what he likes about his job as gatekeeper to the world's most famous insurance market, he says: "Some people say I have the attention deficit disorder answer to an insurance job. If you have that personality trait, this is God's gift to you as a job."
Just as his eye is constantly drawn by the bustle in Brenner's, Bolt admits that the variety of business he gets to see in his current role remains fascinating. "There is hardly any seat you can sit in and get to see what you can see in this job. That is a key attraction. It wasn't a life-long lust to be a referee."
It would be easy to assume that someone with as powerful a job as Bolt's could be rude and dismissive. On his word, a syndicate business plan can be torn up or entry into the market refused. He has also worked in the upper echelons of the reinsurance industry, having spent 25 years at the aloof and secretive Berkshire Hathaway Group. Most recently, he was managing director of Lloyd's underwriter Marlborough Managing Agency, which Berkshire bought from what is now Aviva in 2000 and subsequently sold to Flagstone Re.
But nothing could be further from the truth. While never saying more than he has to, he is affable and jocular, occasionally spicing up chat about keeping syndicates in check with amusing off-record anecdotes.
He is also a straight talker, preferring plain, direct language to jargon and waffle. His approach is as straightforward as his language. "If you show up at my doorstep and tell me you have a problem, we'll bust a gut to try to help you with it," he says. "If we show up on your doorstep to tell you that you have a problem, that's a different discussion."
Core communication
He is also humble enough to listen to and accept others' opinions. When asked what he has brought to the market, he immediately refers to his predecessor Rolf Tolle's achievements. "Rolf was pretty good," he says. "It's hard to find much that he wasn't already doing."
Bolt regularly seeks the counsel of the rest of the franchise board, on which he sits. "I don't want to be doing this all on my own," he says. "I want to be responsible for it, but I don't expect to be making every decision all by myself. Over time we are going to have some tough issues and you would like to have as much thought as you can in coming up with the right answer to those."
Nor does he revel in rubbishing others' business plans or being a figure of fear in the market – which he claims he is not. Rather than fighting against syndicates, Bolt contends he is working with them.
"I work for the market. I am here trying to support the market in its endeavours," he says. "We try to take the role of a critical friend, with equal emphasis on both words. We want to take a critical eye to business ideas and business plans, but the way that we approach that is that we are hoping and pushing for success for the people that we are working with."
There is hardly any seat you can sit in and get to see what you can see in this job"

Tom Bolt, Lloyd's
Bolt is going to need all his faculties and market support to cope with the challenges ahead. Unlike Tolle, who presided over syndicates' business plans from 2003 until Bolt's arrival in 2009, when market conditions were largely favourable, Bolt is in charge of market performance amid challenging times.
Catastrophe rates are hardening where large losses have occurred, but rates elsewhere are stubbornly soft. This is when the Lloyd's performance manager has to get tough, and therefore more unpopular, with market practitioners.
The market is awash with tales of the increasingly strict access policy at Lloyd's as a result of the soft market. Several companies have tried to launch new Lloyd's underwriting operations to no avail.
One such firm, Lloyd's reinsurance broker BMS, set up a new MGA, Pioneer, after being snubbed by Lloyd's. It was understood to be one of eight companies that were turned away at the time. One source described it as Lloyd's bringing the shutters down.
Several other brokers have reportedly abandoned plans to set up Lloyd's underwriting operations, including Aon.
In addition, run-off purchasing firm Randall & Quilter, which has recently made the move into acting as a turnkey syndicate manager for start-ups, said at its annual general meeting in June that its turnkey operations had grown more slowly than expected.
Then there is the persistent accusation that the increasingly intrusive performance management at Lloyd's is stifling the market's legendary creativity.
Bolt gives short shrift to the criticism. He denies that he and his department have become more stringent in today's difficult climate. "We kept using the same standards, but the market got soft, so those same standards began to bite a little earlier," he says. "I don't think we changed our standards at all. It is just that in a soft market we will tend to discourage more activities."
Methodical measures
To those that feel Lloyd's abruptly started turning away new syndicates, Bolt points out that there have been a handful of new entrants over the past year, the most recent being Sirius's Syndicate 1945, revealed in May.
"Sirius had a very attractive accident and health book, with a loss ratio better than the Lloyd's average over the last seven years," he says. "It's hard to say no to somebody bringing in good business and doing good things."
Those that were turned away may simply have not had the appropriate business plans. "In such a market, the only way you can typically build your business – unless you already have some business under your wing – is to be more aggressive on price, more generous on terms or more generous on brokerage – all of which would take you over the potential break-even mark," Bolt says. "In which case, I'm not supposed to approve your business plan. It becomes an easy discussion for me: 'I'd love to help you out, but why don't you come back when you have a business plan that I can say yes to.'"
Despite the number of brokers that have apparently been refused entry to Lloyd's, Bolt insists there is no blanket ban on intermediary-run managing agents. "I don't have a religious opposition to a broker setting something up as long as he has a business plan that is expected to make a profit," he says.
When asked if the brokers who tried to enter Lloyd's had unprofitable business plans, Bolt simply smiles, and says nothing.
Telling Lloyd's what you're doing shouldn't stifle your creativity if you truly have some"

Tom Bolt, Lloyd's
But he does indicate that having a single intermediary source, as a broker-controlled managing agency would be likely to have, is not the ideal model for a Lloyd's syndicate. He points to the attempts to establish Lloyd's as a captive domicile in the late 1990s. "It wasn't disastrous, but it doesn't exactly set things up the way a robust business should be. If you are going to build a business that is going to last 25 years, you're going to have a variety of sources of risk and a variety of providers of that risk."
His rule of thumb is that no syndicate owner should be responsible for supplying more than 20% of its business. "That rule seems to be a sensible one to impose that shouldn't stop good underwriting businesses from making something happen," he says.
On the accusations about tight Lloyd's controls stifling creativity, Bolt replies simply: "Telling us what you're doing shouldn't stifle your creativity if you truly have some."
Despite the robust set of guidelines, Lloyd's faces performance-related challenges. One is UK motor business. For the past two years, the UK motor market as a whole has reported a combined ratio of 120%. In its 2010 results, Lloyd's revealed that its UK motor combined ratio was 151.5%. "We have been working very closely with the folks who have trouble, as we do with anybody who has a particularly loss-making year," Bolt says.
And while financial institutions business is arguably lower risk following the lessons the market learned by the collapses of Enron and Worldcom in 2002, some still talk of a D&O disaster waiting to happen. "To the extent that we might have some exposures in Europe on a financial institutions E&O or D&O basis, we have been checking the markets' pulse to see how they are doing, which you would expect given the nature of it," Bolt says.
The market may be flat in rating terms, but there's plenty to keep Bolt occupied. GR
Snapshot: The man
Age: 55
Hometown: Kansas City, Kansas. Currently lives in London
First insurance employer: Berkshire Hathaway
Interests: Running marathons, Chelsea football team
In his own words: 'Some people say I have the attention deficit disorder answer to an insurance job. If you have that personality trait, this is God's gift to you as a job'
The company
Gross written premium (H1 2011): £13.5bn ($21.3bn)
Employees: 896 (Corporation of LLoyd's)
Market view: Since Reconstruction and Renewal closed in 1997, LLoyd's has gone from strength to strength and taken the world's biggest disasters, such as the September 11 terrorist attacks and Hurricane Katrina, in its stride.