Heavy rain expected across Caribbean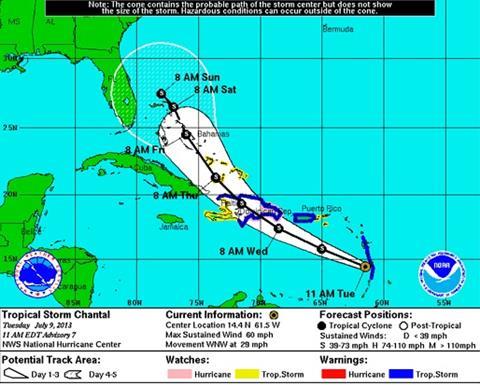 Tropical storm Chantal has strengthened since yesterday and passed between Martinique and Saint Lucia this morning, according to catastrophe modelling firm Eqecat.
The maximum sustained winds are 96km/h, but Eqecat said that the storm had a less than 30% chance of becoming a hurricane before making landfall in Hispaniola.
Chantal is expected to cause heavy rainfall across the Leeward and Windward Islands, Puerto Rico, the US Virgin Islands, the Dominican Republic and Haiti. However, Eqecat expects minimal insured losses.
A tropical storm warning has been issued for the islands of Dominica, Saint Lucia, Martinique, Guadeloupe and Puerto Rico, for the entire coast of the Dominican Republic and parts of the northern coast of Haiti.