But heavy rains still expected to affect islands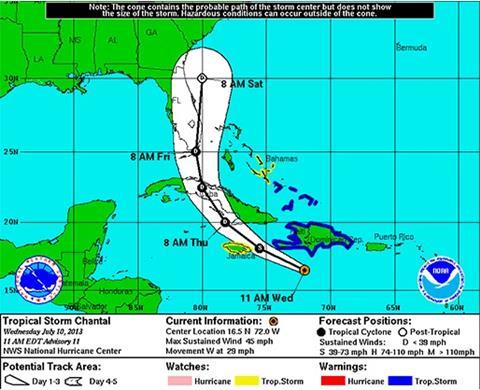 Tropical storm Chantal has weakened, and is expected to be reclassified as a tropical depression or die out in the next 24 hours, according to catastrophe modeller Eqecat.
This morning Chantal had maximum sustained winds of 45mph and was heading west towards Haiti at 29mph.
A tropical storm warning remains in effect for the entire coast of the Dominican Republic and Haiti, as well as the Turks and Caicos Islands and the south-eastern Bahamas.
Chantal is expected to produce two to four inches of rain over Hispaniola, central and eastern Cuba and the south-eastern Bahamas.
AIR Worldwide also said that Chantal is weakening.
But AIR senior scientist Scott Stransky said: "Chantal still carries a significant amount of moisture. The Dominican Republic and Haiti and other islands in its path will still experience heavy rains that can produce serious flooding and mudslides."