Minimal insured losses expected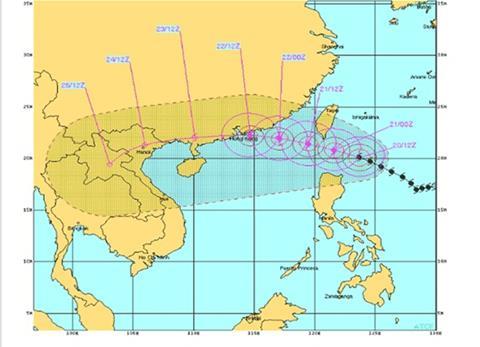 Typhoon Usagi made landfall yesterday near the Chinese city of Shanwei as a strong category two storm, according to AIR Worldwide.
The storm was accompanied by heavy rain and sustained winds of 97mph, according to the Japan Meteorological Agency. However, minimal insured losses are expected, partly because the storm did not hit Hong Kong full on.
AIR said that the storm weakened more than expected before landfall and has weakened more since, to its present tropical storm strength. This morning it made its closest pass to Hong Kong, skirting within 60 miles of the north of the territory.
Because the storm made landfall east of the city, Hong Kong was on the weaker (left) side of the storm and avoided Usagi's strongest winds and highest storm surge.
According to AIR, the storm is forecast to continue moving west-northwest through Guangdong province and cross over into Guangxi province.
Satellite images show that Usagi is weakening quickly as it moves inland, and the storm should dissipate over inland China by Tuesday.

Before striking southern China, Usagi lashed Taiwan with high winds and heavy rains. In advance of the storm's arrival more than 3,000 residents were evacuated from flood-prone areas and mountainous regions in Taiwan. Usagi dumped as much as 70 centimetres of rain, triggering landslides in mountainous areas while coastal areas have been hit by swells, storm surge and high waves.

Shipping lanes between Guangdong province and Taiwan were also shut down. In southern China, Usagi caused the cancellation of hundreds of flights, school closings, and delayed the opening of Hong Kong's stock exchange. Authorities in Guangdong initiated an emergency response plan for the province's nuclear power plants, ordering the reactors at the Daya Bay nuclear power station northeast of Hong Kong to operate at a reduced load.
Police in Shanwei ordered more than 8,000 fishing boats to return to port and more than 1,200 residents were evacuated to temporary shelters. China's Agriculture Ministry had urged authorities in Fujian, Jiangxi and Guangdong provinces to harvest mature crops in advance of the storm's arrival.