Storm likely to make landfall as category 1 or 2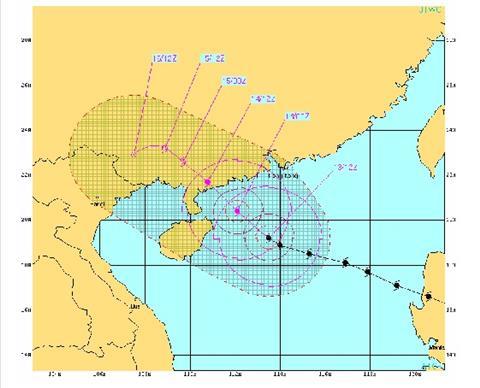 Typhoon Utor is moving across the South China Sea and is expected to make landfall today in Guangdong, southern China.
According to Eqecat's CatWatch, Utor is likely to be a category 1 or 2 typhoon when it makse landfall.
The storm weakened to a category 2 with maximum sustained winds of 100mph after it left the Philippines on 12 August.
While the warm temperature of the sea has strengthened Utor's wind speeds to 110mph, it is expected to weaken again as it approaches the Chinese mainland.
Closing in on Hong Kong
At 11pm local time, Utor was around 220 miles south of Hong Kong, and moving at 7mph.
Though the entire eastern seaboard of China is vulnerable to typhoon risk, Guangdong, Fujian and Zhejiang provinces are most vulnerable.
Of the five storms that have made landfall in China this season, two made landfall in Guangdong – Utor is the third to hit Guangdong this year.
Guangdong risk
Guangdong is a densely populated province of China with a population of more than 104 million. It contributes about 12% of China's national economic output, and houses several production facilities, industries (including high-tech industries), and the commercial offices of several multinational and Chinese corporations.
Almost all property policies include wind storm risk. Insurance penetration is generally low in China, and Eqecat estimates takeup in Guangdong is more than 15%.