Composite rate now 5%, says MarketScout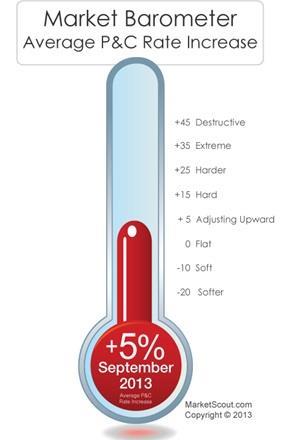 US property/casualty rates rose slightly in September, according to insurance analysts MarketScout.
The composite rate is up from +4% in August to +5% in September.
MarketScout added that small accounts of up to $25,000 premium incurred average rate increases of 6%, while medium accounts of $25,001 to $250,000 saw 5% rises. Large accounts of $250,001 to $1,000,000 rose by 3%, according to MarketScout, while accounts of more than $1,000,000 rose just 2%.
By industry class, contractors are paying the highest rate increases at +6%, followed by habitational, service and transportation accounts that are at +5%. Public entities had the smallest increase at +3%.
Commercial property and general liability coverages were up 6%. Automobile and business owner policies were up 5%. The lowest increase, as measured by coverage classifications, was in surety at +1%.
MarketScout chief executive Richard Kerr said: "There are several medium-sized publicly traded insurance companies which are encountering challenges in their ongoing business operations. These companies may be sold, restructured, or placed into run-off unless they structure some creative solutions to get them past their current financial crisis.
"Very capable, smart insurance executives lead each of these firms. It just goes to show how quickly things can go wrong if an insurer experiences adverse loss development. Rates will increase if a few more companies experience similar deterioration."