Trust, flexibility, security of capital and acute awareness that begins at the underwriting stage are all key to confidence in the relationship between cedants and reinsurers. Global Reinsurance joined players from both perspectives to share insights at a roundtable discussion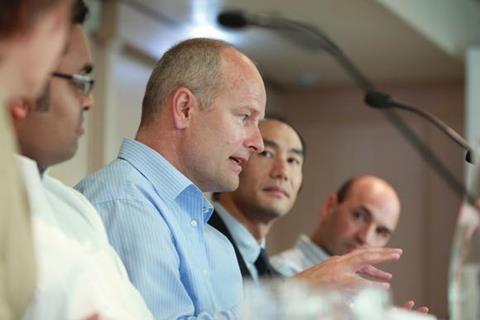 Relationships and trust were top of the agenda when, bright and early on Monday morning, a select group of reinsurance buyers and reinsurers joined Global Reinsurance for the cedant roundtable: an opportunity to explore the all-important relationships at the heart of the industry, and ask the all-important question: what do cedants really want?
First, the group talked about what makes a good trading relationship. It was clear that trust, transparency and flexibility were at the top of the list. Argo group senior vice-president, head of corporate risk, reinsurance and business development, Barbara Bufkin, said: "The first thing that comes to my mind is having trust and transparency; so building a trading relationship with our reinsurers as a partnership. Reinsurance is a core component in terms of capital, and capital management, and we look at those relationships to help us manage the cycle.
"The more transparency, the more we can share with our reinsurers. Certainly some products are more based upon syndicated risk, but in the long run the ability of Argo to be successful has been very much with our partnership, our reinsurers."
Torus Insurance's global chief strategy officer, Printhan Sothinathan, pointed out that skills were also central to the partnership between cedant and reinsurer. He said: "We would like to partner with firms that understand our business, that can appreciate the value of our underwriting, and can identify with the differentiation that we bring to the table, when we bring it to the table. We think that has enormous value."
Arch Worldwide Reinsurance chairman and chief executive Marc Grandisson added: "Beyond the trust, honesty is very important. It's important at multiple levels – first to getting the information in the right way for both parties to really understand what's at stake, and it also helps to alleviate any possible issues that could arise if a dispute were to take place."
Steptoe & Johnson partner Gavin Coull suggested that things could go wrong between a cedant and a reinsurer when trust breaks down. He said: "It is a long-term relationship. Where it goes wrong is when you get surprises. Nobody likes surprises, so [you have to] maintain a good relationship throughout, and remember you are buying and selling a product, and it is a reinsurance product, and that it responds in a certain way.
"If you understand what you are selling and what you are buying, it takes out the risk."
Security of capital
As well as the softer elements such as trust and honesty, Liberty Mutual manager of ceded reinsurance, Elaine Caprio Brady, said that security of capital was a fundamental requirement for cedants.
"One of the qualities that we look for in reinsurers is their capital, and the extent of their capitalisation. That is one of the first things that I think most companies look at, especially when they are evaluating reinsurers for purposes of approving them in their credit committees.
"Secondly, you buy reinsurance so that reinsurers pay your claims – that is the number one reason, and sometimes during the underwriting process there can be a tendency to forget about that. Ceding companies definitely do recognise reinsurers who pay their claims promptly and appreciate that in terms of current relationships and future relationships.
"It's all about maintaining a long-term relationship with your reinsurer, and recognising that we are in a long-term trading relationship, and that each one of us is assuming risk; the risk that we are retaining for the ceding company, and the risk that you are assuming as the reinsurer, and that there are going to be periods of the market cycle, or when catastrophes occur, where there are going to be hits to your capital, and of course there will be hits to ours.
"And finally, with respect to Barbara's comment about transparency, I believe that the transparency relates to both the financials of the reinsurer, not only in a group position, but in an individual risk-bearing entity position, and in addition transparency with respect to PMLs [probable maximum losses], especially when it comes to cedant companies purchasing property catastrophe reinsurance."
Torus's Sothinathan said: "If you were the buyer for the cedant company, I would think that if you looked at everyone as equal – if they had equal security, capitalisation, equal longevity in the business and everything else – it really does come back to your point on actually having a true partnership between a reinsurer and an insurer. I know it gets said a lot, but it really does come down to that, because it's the differentiation of what a partnership can bring to the table rather than a non-partnership commoditised kind of business."
Munich Re's board member Peter Röder said: "One thing I haven't heard about yet is flexibility. I'm talking about the willingness to listen, adapt and respond to the needs of the client, be it in terms of product or in terms of approach. We have to adopt a differential line with clients as regards their strategy, their exposures, and their capital management requirements.
"That's what a true partnership is all about, and that's what we feel most of our clients are looking for. They genuinely want to engage with their reinsurance partner to make sure we are working cleverly together to deliver a holistic solution."
Managing director of Eureko Re Margreet Van Ee added: "When you talk about understanding the client, there is also this cultural aspect. Eureko comes from a co-operative background, and so what our clients have expected of us since 1811 is continuity and solidity. That's what we are looking for in reinsurance relationships."
Arch's Grandisson pointed out some problems on the horizon. "We are selling a promise to pay as a reinsurer. It's a promise to pay in the hard times, and when we are paying the claim to our client it's never in a very wonderful environment. If you wanted to provide a property coverage for a client, you will most likely have losses throughout your portfolio when the world will have losses everywhere, and I think this is where I personally have seen a shift over the past 15 to 20 years in the industry.
"There are a lot more disputes going on. Most of you here will have been involved in a dispute, or will have heard about a dispute, or disputes between clients. Of course, every case has different points to it, but there are a lot of cases that seem to be pretty straightforward and there are still arguments over them. And often, as a reinsurance provider – I will speak on behalf of my brethren – we have found ourselves in a place where we don't really want to pay, as opposed to having the willingness to pay, for reasons that may have nothing to do with the relationship.
"People talk about relationships being flexible, which is all good. When there is no loss, it's a lot easier to deal with the client going forward. If you are renewing by 10%, 5%, being asked 'Can you include that region in my cover?', if there is no loss it's a lot easier. But when you really prove that this relationship stands, and that you have done the right stuff, is when there is a big loss and you actually come through and pay the claim.
"Whenever we have a claim in our company we have a faculty of operation, and we go through the claim and say 'Was this claim a valid claim? Is this claim really a claim we should be paying?' And funnily enough we should pay all those claims. The problem that most reinsurers found themselves in in the mid-1990s, and I'm hoping it has changed, is that they actually did not do the work properly at the beginning of the process, which is when they underwrote the risk.
"Peter mentioned differentiation. We are very, very conscious of a differentiating client when we do the underwriting. I know it might drive some of our clients crazy, but we are really, really focusing on this. [If there is] a client that we are going to put X limits, millions of PML with, we understand the issues of what could go wrong. And when it does go wrong, we are going to pay. We just don't want to be in the position where we have to dispute all the claims we have, which might make us appear a bit more conservative, but I think prudent is probably the better word to use.
"And thankfully as an industry we have been great. There have been an amazing amount of claims from [Hurricanes] Katrina, Rita and Wilma, and we have been paying them with not a whole lot of disputes. But, again, I would differentiate between renewing when there is no problem, and then where it's really a problem, being able to step up to the plate and really do the right thing. Sometimes it doesn't have to be the contractual thing, but doing the right thing sometimes goes beyond just what's written in the words."
The perils of underpricing
Munich Re's Röder agreed: "I can only underline that. Claims as such are not the biggest problem, because that's what we are here for, as insurers and reinsurers. I would like to differentiate to the extent that, in a long-term relationship, we have a normal fluctuation. We sometimes have big claims and have to pay for them. That's okay, that's fluctuation.
"But if we have to deal with structurally underpriced business in underwriting, then the relationship will run into problems. We can see that in advance, and I think both sides shouldn't write underpriced business. So that there is no misunderstanding, when a claim occurs, it has to be paid. But the business should be priced properly."
Again, it all comes down to the underwriting, the delegates agreed. Steptoe & Johnson's Coull said: "If you break it down, there are cases where you have to have a genuine dispute, there is nothing wrong with it, but as Marc is saying, if you take out as many problems as you can at the underwriting stage then there should be fewer [disputes]."
Insurance Australia Group's head of reinsurance, Julie Batch, replied: "That's really the critical thing. As a buyer, I want to buy a contract from a reinsurer who has priced it appropriately, who understands the risks that they are taking on, who has listened to what I want to purchase, isn't selling me their product, and is taking a holistic view of my company, and a sustainable approach to reinsurance.
"So I don't want to have to continually adjust my price after a claim, I would like to pay the fair price of reinsurance upfront to take those surprises out. But so frequently you have post-loss reaction to risks that should have been understood and should have been priced appropriately."
Torus's Sothinathan added: "Disputes are always going to arise, but it is down to the fact of: was it known about at that point in time, was the underwriting thorough, both from a direct perspective and a reinsurance perspective? There are some instances that catch underwriters out on a direct basis as much as they catch out reinsurance underwriters, and if it's a surprise to our underwriters and it's a surprise to reinsurance underwriters, I would suspect that it's a genuine surprise to the industry."
Learning from disaster
Liberty Mutual's Caprio Brady pointed to the lessons that could be learned from Hurrican Katrina. She said: "We have all learned an enormous amount from how Katrina ultimately affected us in terms of the city being shut down, and how we define this event. If you thought about wording changes that occurred as a result of that, you have an obligation to work through those upfront with your reinsurers. Put some loss examples forward – again, I don't think we need to be shy about that level of discussion at the front end of our negotiation – give some examples and ask for reinsurers to respond, or allow the reinsurers to give examples of how they interpret the wording. We are learning in this process, it's not a static environment at all, and the Deepwater oil spill is going to teach a lot."
GR's Ellen Bennett asked the group how important personal relationships were in maintaining professional partnerships.
Eureko's Van Ee said: "You have a relationship with an organisation first, because you look at all the criteria, like financial stability, expertise, things like that, and if there is a cultural fit between your organisations, on a personal level it probably will work as well.
"But if too much changes on the personal side, then it gets hard because you want your reinsurer to know your business, and to know how you do business, and you want the long-term approach. And if you have a new face in front of you every year, it's hard to live up to that message."
The delegates agreed that Monte Carlo itself was the perfect example of how important personal relationships remain to the reinsurance industry. Torus's Sothinathan said: "Even in this group, there are people that I have known for more than 20 years and this pays off. The more difficult a situation you are facing, whether it's claims payment or a new product, the more important it is that you have a personal relationship.
"Also, from a structural point of view, we are not working in a perfect market. There is not perfect transparency or perfect oversight, we have limited insight, and therefore I think as a market we can only work as efficiently as we should if personal relations come into play as well."
Liberty Mutual's Caprio Brady concluded: "It supports accountability. If you do have a professional personal relationship, it absolutely relates to the accountability that a company has. And an individuals in the roles we play as buyers, we are communicating a lot of information, and I think you must feel accountable to that relationship professionally."
Be transparent about limitations
GR's Ellen Bennett asked how important relationships and underwriting skills are in comparison to chief executive-level business strategies. Munich Re's Peter Röder replied: "First of all you need to understand the client; you need to know what his structure is, what his strategy is, and you need to understand it, and then really get it all together and present it to the client in such a way that it's really clear that the whole concept is adding value.
"We usually work with clients who are present in five continents, and they have very specific problems, very specific issues and we need to bring it all together. In the end it's not just about, let's say, stability of price, it's also about continuity of capacity. We have been concentrating more so far on the stability of price, and what's going to happen if a claim is coming in. The continuation and stability of capacity – of a certain capacity – is, I think, sometimes even more important."
Liberty Mutual's Caprio Brady replied: "I think we are realistic. If a reinsurer is discussing the fact that they are truly full up in a zone, and they really do believe they have reached their maximum rational amount of risk that they can retain then we, as buyers, just need to know that, and then we have the ability to manage our portfolios going forward. So if we have that transparency – we are using this world a lot, but it's so applicable here – if we know where the capacity constraints are with every insurer, and they are coming to us early enough in the process, we can then manage the capacity needs we have."
Argo's Bufkin added that reinsurance buyers themselves must take responsibility for advising their chief executives. She said: "I think we have a huge responsibility as buyers to keep our chief executives informed and make sure they understand what some of the issues for our reinsurers may be. So we are really not only working closely with external partners, but also with our chief executives. We have a huge spend that we are responsible for, and it does move the needle, and we have an obligation to educate and work with our chief executives so they understand the market dynamic."
So once again it seems that good relationships, transparency and honesty are key, other constraints notwithstanding. With this in mind, after a lively and fruitful discussion, the delegates headed out to start their day of strengthening their key relationships at the Monte Carlo Rendez-Vous. GR