GR and NIIT Technologies host top-level briefing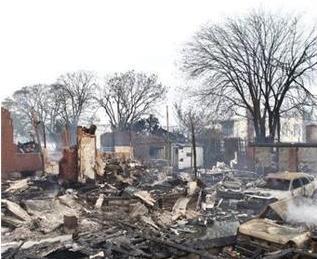 Exposure managers and underwriters gathered in London last month for a GR Breakfast Briefing, in association with NIIT Technologies. The combination of presentations and off-the-record discussion that followed centred on the theme of managing the enterprise view of exposure risk.
GETTING USEFULNESS FROM CATASTROPHE MODELS
In his opening presentation, Oasis Loss Modelling Framework project director Dickie Whitaker said that usefulness was closely linked to the price of the catastrophe model: "If you think the price is too much that's not going to give you utility," he said.
(Re)insurers should also demand innovation from their cat models, he said: "If you're not going to get innovation then you're not going to get what you need to run your businesses going forward."
Catastrophe modellers should also be more transparent about their models to prevent their users making mistakes, Whitaker said.
In a keynote address, NIIT sales director Ian Forwood said that by using technology to better understand exposure, one underwriter client could write an additional $5m more gross written premium.
"Another insurer told us they expected to reduce quote turnaround time from 10 days to three days, and spend 25% less time entering and manually rekeying data," he said.
"It means the underwriting community can spend more time thinking about risk selection and pricing and the things they'd rather concern themselves with rather than rekeying data."
The insurance market should ask for three things from their technology, Forwood added: "Always driving to deliver more value. An understanding of the business imperatives – very important from a technology point of view. But most important is flexibility. That's in pricing, in technology integration, all these different aspects."
THE PRICE AND VALUE OF TECHNOLOGY
The rising price of technology was hotly debated at the event. Whitaker said that the rising cost of some catastrophe models was "clearly very undesirable" for the audience, and that catastrophe modellers should help justify any price rises by being transparent: "If you're not going to tell people the assumptions, and the sensitivity of the components, and why choices have been made, then I am not sure they have much value."
The price of models should be half of what it is today, Whitaker added.
Forwood said that cost-cutting was high on the agenda of many users of catastrophe models: "One of our clients once told us that cat modelling cost them 20% of their IT budget, and they expected that to grow," he said. "One insurer told us they were interested in licensing a second cat model, but the cost was prohibitive."
Technology cost is now a major issue for everyone in the market, he added.
In the off-the-record discussion that followed the keynote addresses, one guest said that softening rates in 2014 were likely to have an impact on how much insurers invested in insurance technology.
Another guest said that insurers needed to weigh up the cost of catastrophe models against the benefits: "We need to take a step back and ask: what is this cat model for, how much do we need to understand it, how much do we need to sit back and quantify what we don't understand about it, and how much are we prepared to pay for it? At the end of the day, RMS(one) will be worth whatever people are prepared to pay for it."
Outsourcing was a clear way for insurers to save money on catastrophe models, according to another guest: "People want to have a cat model in-house that they understand, but they often can't currently afford it, especially with their budgetary constraints, especially in the insurance space."
THE FUTURE OF INSURANCE TECHNOLOGY
In his opening address, Forwood said that customers naturally expected technology to evolve: "It always has been the case, ever since pocket calculators, TVs, laptops. And that's right, they should. So why shouldn't that be the case for cat modelling and exposure management?
"Processes get faster, data is more accurate, storage is cheaper. So it should get better."
However, the future of insurance technology does not lie in "monolithic solutions". Forwood added: "The history of IT, albeit quite short compared to the history of underwriting, clearly shows that going to proprietary solutions that lock you in will ultimately end in tears."
Whitaker said that 2014 would be a "pivotal year" for catastrophe modelling, with the widespread distribution of RMS(one). "2013 was a rumble compared with the thunderclap we are going to have," he said.
But the market needed to move towards cheaper and more extendable software, as well as multiple providers, he added.