The results of Hiscox, Beazley, Amlin, Novae, Catlin, and Brit analysed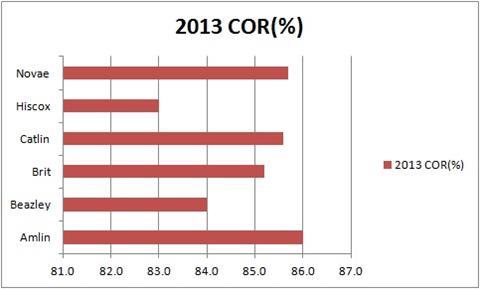 Lloyd's insurers all reported much improved results in 2013 despite competitive pressures, price cuts and weather losses.
The average combined operating ratio (COR) across the five currently listed firms and the soon-to-be-listed Brit was 84.9% – five percentage points better than 2012's 89.9%.
All six firms studied reported CORs below 90%.
While there were catastrophe losses in 2013, with notable events including storms and flooding in Europe and Canada, the big Lloyd's players enjoyed a far more benign year in 2013.
But there was still a lot of variability between the results given the differing strategies and stages of development of the companies.
Here is GR's sister title Insurance Times' at-a-glance guide to the largest Lloyd's insurer's 2013 results.
If profitable growth is the key measure of an insurer's success, Hiscox would be the winner of 2013. Its 2013 COR of 83% was by far the lowest of its peer group, and its gross written premium growth of 8.5% was clearly ahead of its rivals. Furthermore, Hiscox's result was less flattered by reserve releases than most of its rivals'. The insurer's reserve releases fell by 7.9% to £140m ($232m).
Hiscox did not lead the market on all level, however. When it came to return on equity (ROE), the key measure of how good an insurer is at making money for its shareholders, Beazley was king. Its 2013 ROE was 21%, comfortably beating Amlin's 19.8% and Hiscox's 19.3%. Given that the standard ROE target in the industry is 15%, the top Lloyd's insurers put in a very creditable performance here.

The prize for the most improved underwriting performance goes to Brit. Its COR fell by eight percentage points to 85.2%. The insurer is now a very different company from the one that private equity firms Apollo and CVC bought in 2011. It has carved out its UK retail business, sold off its UK legal entity and is forging ahead as a Lloyd's only global specialty (re)insurer. The transformation appears to be paying off so far.
Dwindling investment returns was a big feature of Lloyd's insurers' 2013 results. The six insurers' combined investment return fell by 26% to £394.1m in 2013 from £529.6m in 2012. Interest rates have been persistently low, which has kept investment returns down. Some insurers have performed better than others, however. Amlin's investment return only fell by 3%. The company attributed its relatively strong performance to its investments in property and equities. Amlin's investment portfolio is 8.5% equities, which is a larger proportion than many of its peers.
All Lloyd's insurers continued to benefit from reserve releases, but some did so more than others. The biggest beneficiary was Beazley. Reserve releases accounted for 13.7% of its net earned premiums in 2013, up from 8.5% in 2012. The Lloyd's insurers least dependent on reserve releases were Novae and Catlin, where releases made up 4.2% of net earned premiums. Only two insurers saw a decline in reserve releases, which were Hiscox and Novae.
Lloyd's insurers had a good year in 2013, but they face many headwinds as they trade on into 2014. Competitive pressure from alternative reinsurance capacity, for example, is lowering rates, particularly for US catastrophe reinsurance.
And, as every year, Lloyd's insurers are exposed to catastrophe losses all over the world. If Florida is hit by a big hurricane in 2014, for example, the picture will be very different. But at least they will go into the unknown from a position of strength.