With Gallagher and Towergate inactive, smaller players are set to move into the mid-market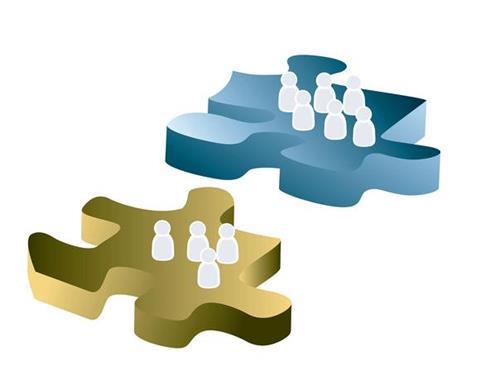 Jelf is being touted as a potential takeover target and a fresh breed of mini-consolidator is emerging as the UK broker market enters a new era of mergers and acquisitions (M&A).
Private equity is also returning, with echoes of the M&A spree prior to the onset of the financial crisis in 2008, according to GR's sister title Insurance Times.
And the top-tier brokers' chances of bolstering their comparatively weak UK retail divisions are dwindling, now there are few acquisition targets big enough to satisfy them. So who will be the buyers and sellers in this new era and from where will their money come?
The face of UK broking M&A has changed radically. Two years ago, Arthur J Gallagher was still building its UK retail broking operations, having purchased Heath Lambert in 2011.
Meanwhile, Towergate was hoovering up 20-30 brokers a year in its bid to grow earnings before interest, tax, depreciation and amortisation (EBITDA) and stay on top of its interest payments.
Now, Gallagher is integrating several big UK broker buys, most notably Giles and Oval, and Towergate has put M&A on hold following the completion of its takeover and restructuring on 2 April this year.
So two names that were once the dominant force in UK broking M&A are now all but silent. But that does not mean time has been called on the buy-and-build business model.
Former Bluefin executive chairman Stuart Reid says: "The days of the consolidator are hardly dead. They are coming back with a vengeance."
Gallagher's acquisition of Giles and Oval has left a gap in commercial retail broking's mid-tier, which smaller brokers could look to fill by buying their peers. Also, they will have relatively little competition from Towergate for smaller brokers because of the company's self-imposed M&A suspension.
Deloitte corporate finance partner Ian Sparshott, who specialises in insurance M&A, says: "There is an empty space in the market for smaller players to move up and into. Some of the more traditional consolidators will probably be less active in the market in the near term at least."
He adds: "We might start seeing further consolidation of those smaller players to move them up into that gap created by mid-market players being swallowed up by larger brokers, and some of those larger brokers digesting what they have acquired rather than being so active at present."
One company that is taking advantage of the big hitters' lull in activity is Global Risk Partners (GRP), a fledgling consolidator set up by former Towergate deputy chairman Peter Cullum and former Willis Ltd chief executive David Margrett to buy London market wholesale brokers and managing general agencies.
GRP has now hired one-time Towergate chief executive Andy Homer and former Bluefin chief executive Mike Bruce as chairman and chief executive of retail, respectively, and will set about buying retail brokers.
Mighty Quin Consulting director Ian Clark says: "GRP will be very active. Peter [Cullum] is your consummate professional in that area."
Another name mentioned as an acquirer is Stackhouse Poland. The broking group is now led by former chief executive of Towergate-owned Paymentshield Tim Johnson, and has fresh private equity backing from Synova Capital after its management buy-out (MBO) in December 2014.
The market is also waiting to see what former Oval chief executive Peter Blanc will do next now he has become executive chairman of Aston Scott as part of the broker's Bowmark Capital-backed MBO. There is no shortage of acquisition opportunities.
As Insurance Times highlighted in February, figures from M&A adviser IMAS show there were 3,597 general insurance distribution companies registered by the FCA as of December 2014, many of them small firms. And the owners of many of these companies will be looking for an exit.
The market has already lost about 4,000 brokers over the past 10 years, and the total is likely to dwindle further as business owners look to sell either because they want to retire, or they feel they can get a better price in today's more buoyant M&A market.
Much of the money for new acquisitions is likely to come from private equity, with many recent deals involving private equity. Hyperion was bought by General Atlantic in 2013 and that fuelled Hyperion's takeover of RK Harrison. Towergate was taken over by Highbridge and A-Plan is now backed by HgCapital after previous private equity firm Equistone sold its majority stake.
And, as Stackhouse Poland's Synova-backed MBO shows, the UK broker market is tempting private equity firms that have not invested there before.
Investors are cautious
But, having seen Towergate's recent troubles, which rendered former private equity backer Advent's £200m equity stake worthless, private equity companies will not blindly throw money at brokers.
Lloyds Bank global head of insurance Bill Cooper says: "We get quite a lot of enquiries from mid-sized private equity, but financial investors are a bit burnt by what has happened with the likes of Towergate, and are going to be a bit cautious."
Banks, which have been more reluctant to lend to brokers in recent years, will play a part but will tread carefully.
Cooper adds: "We are cautious about the regulatory environment. We are looking to make sure these firms have good relationships with the regulators. But as long as the leverage isn't excessive and they can demonstrate that, we are definitely open for business."
Most of the activity will be among smaller brokers as they aim to join the mid-tier, but what about the bigger brokers? The top three, and Aon and Marsh in particular, want to build their comparatively weak UK retail broking capabilities.
Marsh, for example, missed out on buying Towergate, and Aon was believed to be in the running for Giles when it was on the market two years ago.
To give them enough of a push into UK retail, the mega-brokers would need a big acquisition. Many feel it would not be worth them making a series of smaller buys to get where they wanted to be.
Deloitte's Sparshott says: "To do a sweep-up of the smaller brokers would be quite difficult, time-consuming and expensive and you would not make great strides."
But after Gallagher's activity and Towergate's takeover, there is little else left to buy. The only firms big enough are Bluefin and Jelf, and AXA is unlikely to want to let go of Bluefin.
Buying Jelf could be a possibility for one of the larger brokers. The company is listed on AIM, making it easy for a suitor to buy up shares, and current private equity backer Capital Z, which owns almost 30% of Jelf, has been invested in the firm for five years and could soon be seeking an exit. On top of this, Jelf is profitable, growing, and well-run.
Willing to sell
But it remains to be seen whether Jelf is willing to sell, or whether one of thev mega-brokers could grab it.
Jelf bought Leeds broker Beaumonts in December 2014, which would make it an awkward time to be taken over. And Jelf sees itself as predator rather than prey. Chief executive Alex Alway says: "Far from being an acquisition target, we are looking to acquire, and we have a healthy pipeline of discussions."
It is hard to predict who will buy whom and which brokers will become dominant players, but Reid says: "It is all to play for. The next two or three years will be fun."