Climate change a factor behind extreme weather, claims Ergo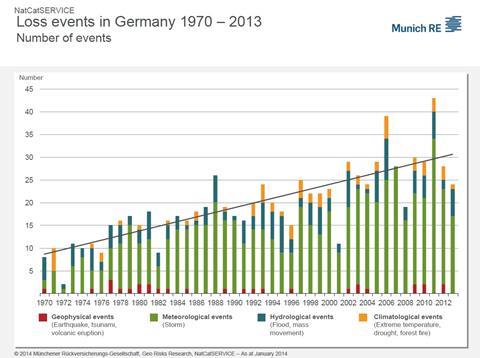 Heavy hailstorms and floods were major factors affecting claims levels in 2013, according to a new report from Ergo.
In total, the number of claims resulting from instances of extreme weather was the second highest in Germany's history.
Floods
Heavy and sustained rain (low-pressure system Frederik) caused the flooding in southern and eastern Germany in May and June 2013. Extremely high water levels and burst floodbanks resulted in extensive damage, even in areas well away from the major rivers, Ergo said.
Statistically, these areas are only affected by flooding every 100 years or more.
Ergo chairman Christian Diedrich said: "Our figures show that flood damage not only occurred in the high-risk areas, but also increasingly in areas considered to be safe. It's therefore very important to raise awareness of the risks and danger of flooding.
"Furthermore, there is a need to invest in flood protection systems, such as dams, dykes and polders, and prohibit construction in areas at risk from flooding. Cross-border co-operation is also especially important: if protective measures are taken upstream, then they can also impact upon areas downstream, without the need for additional precautionary measures."
Hail
Ergo said that the biggest insured losses were caused by the hailstorms in July and August.
Summer hailstorms, with some hailstones the size of tennis balls, caused enormous damage to buildings and vehicles.
Weather system Andreas on 27/28 July caused hail and heavy rain in Baden-Württemberg, Lower Saxony, North Rhine-Westphalia and Saxony-Anhalt, resulting in extensive damage.
Trends
2013 saw the continuation of a trend that looks set to intensify according to climate research: the increase in the number of regional storms. "There used to be a clear north-south divide: storms in winter used to predominately occur in the north, whilst hailstorms largely affected areas in the south and south-west of Germany between May and August," said Diedrich. "It's almost impossible to limit events to certain regions or time frames any more." Hail also caused damage across northern Germany in 2013, for example.
The number of claims arising from natural disasters has almost tripled in Germany since 1970.
"This is where climate change also comes into play," explained Munich Re Geo Risk Research head Peter Höppe. "As shown by recent scientific studies, we have to expect heavy rain, hail, heatwaves and more aggressive winter storms in Germany in the future. The hailstorms and instances of flooding in Germany in 2013 resulted in the highest insured losses from natural catastrophes worldwide."
The total damage caused by natural catastrophes over the past 40 years amounted to €95bn, of which around €40bn were insured.
Cover against natural hazards
On average, just 32% of Germans have the right insurance for their residential property to protect against such weather events.