Loss-making insurer faces battle to convince Wall Street as billionaire investor plots AIG slice up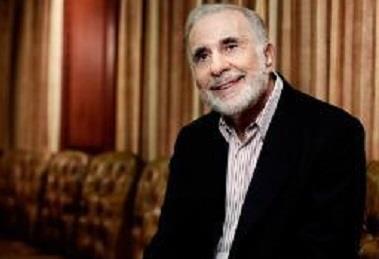 AIG's plan to slash a fifth of its senior management and save $400m a year have failed to dampen the growing chorus of calls to consider more carefully splitting the company in three.
The US insurer will axe up to 400 senior staff following its $231m third quarter loss.
Powerful shareholder activist Carl Icahn has invested some of his $30bn fortune in AIG and is now goading management with calls for a break up
AIG was battered by falling hedge fund investment returns leading to a mark down on its assets to market value.
The American insurer was also hit by charges for restructuring the business.
The poor results have bolstered the position of billionaire investor Carl Icahn, who wants the business split into three: mortgages, life and finally, general insurance.
Icahn believes a split will allow a clunky AIG to throw off its 'systemic risk' tag with regulators, free up billions in cash for shareholders and create a leaner business that can finally match its rival for performance.
AIG chief executive Peter Hancock has rejected the calls, saying the three parts of the business support each other by making the business less capital intensive.
Despite an impressive four-year rally in which AIG's share price has tripled from $20 to $60, there are growing calls from Wall Street to take a fresh look at Icahn's plans.
AIG peformance 'below its potential'
Proposals to break up AIG "are certainly plans worth exploring" if they can help the insurer shed its SIFI designation and return money to investors, Nomura analyst Clifford Gallant said in a note to clients
"AIG has a great global franchise," Gallant noted, but "the company's operating performance is below its potential."
A report from Citi chimed something similar, saying that a break-up discussion highlights AIG's attractive and under-valued assets.
"We do think it is time for AIG management to articulate their view in more detail."
Rugby-loving AIG boss Peter Hancock, with All Blacks captain Richie McCaw, faces a battle in convincing shareholders not to side with the persuasive billionaire Carl Icahn who wants to slice up AIG
Reuters, in its opinion section, said: "The trouble is that rival Travelers avoided similar problems. It reported an annualized return on equity for the latest quarter of 15.4 percent. Analysts expect MetLife, which reports later this week, to earn a 7.8 percent return on equity – hardly stellar, but obviously better than a loss.
"AIG hasn't been able to earn that much even in decent quarters: Annualized equity returns have been stuck between 5.1 percent and 7.7 percent for more than a year."
It added that although Hancock's argument to keep the insurer intact had merits, "he's hardly arguing from a position of strength."
However, Hancock's ace-playing card has been backing from rating agency Moody's.
Moody's called Icahn's plans a potential 'credit negative' event.
Any lowering of AIG's credit ratings could increase its borrowing costs.
This piece was first published by Global Reinsurance's sister title Insurance Times.