The insurer can establish trigger points, leading to faster claims settlements
Aon's specialised cargo insurance product that uses the Internet of Things (IoT) to provide supply chain cover for transporting the Covid-19 vaccine globally is a "game changer" for this line of business, according to data and analytics firm GlobalData.
This is because cargo insurance claims can often take months to identify and settle.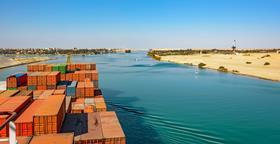 As the Covid-19 vaccine needs to be kept under strict temperature controls to remain useable, the broker is using IoT to monitor the temperature of vaccines being transported via marine cargo through its partnership with insurtech Parsyl.
Around half of the Covid-19 vaccines distributed around the world go to waste, in large part because of a failure to properly control storage temperatures, according to the World Health Organisation (WHO).
Jazmin Chong, insurance analyst at GlobalData, said: "Through Aon's insurance product, if vaccine temperatures drop outside the pre-established temperature range, policyholders are entitled to a claims payout.
"Aon's product is a game changer as the insurer will be able to establish clear trigger points and have constant access to this information, therefore being able to settle a claim much more rapidly."
"IoT usage also provides policyholders with tracking information for vaccine cargo."
Integral role
Chong said that Aon and Parsyl's efforts represent an important usage of IoT in the insurance market, as well as offers insight into how vaccine providers are trying to mitigate risk.
This is relevant in light of the March 2021 Suez Canal blockage. This only lasted six days, but it is expected that the incident will impact global supply chains for months.
Aon's product can be viewed as necessary in light of the incident, GlobalData said, as it highlighted how delicate global supply chains can be when events such as this occur.
Chong continued: "Going forward, IoT devices will play an integral role in the insurance industry. Their usage will offer a more creative way of protecting against certain risks and streamlining the claims process – benefits that will help drive uptake."
In recent years, IoT capabilities have become increasingly important to enterprises, allowing the IoT market to grow from $586bn in 2019 to $622bn in 2020.
Due to the technology's potential, GlobalData forecasts that the IoT market will reach a value of $1,077bn by 2024, representing a compound annual growth rate (CAGR) of 13% compared to 2020.
As the ecosystem of IoT devices develops, it creates an opportunity for insurers to integrate the technology and streamline their claims process, GlobalData added.