Alongside GI GWP improvements, selling eight non-core businesses outside of the UK, Ireland and Canada will generate cash proceeds of £7.5bn for Aviva, says Blanc
Aviva's combined operating ratio (COR) for its general insurance business in the UK, Ireland and Canada stands at 90.8% at the end of quarter one in 2021, compared to 114.2% in 2020's quarter one – showing a 23.4 percentage point improvement.
Explaining the drivers behind these figures, published within the insurer's quarter one financial results today (27 May 2021), Aviva attributed its improved GI COR to "better underwriting performance, benign weather experience, a reduction in Covid-19 related claims compared to the prior year and frequency benefits in motor lines from continuing lockdowns".
Gross written premium (GWP) has also grown by 5% between Q1 2020 and Q1 2021, moving from £2,499m to £2,621m.
Specifically in the UK, GWP across Aviva's personal and commercial lines increased by 6% overall. Its personal lines GWP remained static between 2020 and 2021 at £643m, however commercial lines GWP in the UK increased from £488m last year to £552m in 2021.
The UK's overall GWP for personal and commercial lines grew from £1,131m in 2020's quarter one to £1,195m this year. The UK's COR showed a 41.4 percentage point improvement too, moving from 133.5% to 92.1%.
The increased GWP in today's results "reflected strong new business wins and a favourable rate environment in commercial lines as well as growth and increasing market share in UK retail (direct) personal lines, including price comparison websites", said Aviva.
PCW impact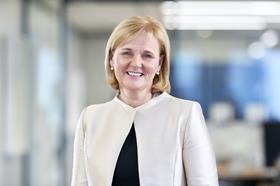 In terms of personal lines business, Aviva has seen a 4% growth in its retail direct business, thanks to "the successful launch of our Aviva brand's motor and home offerings on the major price comparison websites helping to offset the ongoing impact of the national lockdown on motor rates which continued to decline".
Furthermore, "new partnership deals entered into recently have also supported growth in home personal lines", Aviva added.
Despite these business boosts, Aviva noted that its intermediated business is still being impacted by the Covid-19 pandemic due to its distribution partners continuing to be disrupted while travel insurance demand remains low amid international travel restrictions.
As for UK commercial lines, Aviva recorded a 17% growth in global corporate and specialty (GCS) lines as well as 10% growth in SME sales.
Core focus
Speaking on the results, Amanda Blanc, group chief executive of Aviva, said: "We made very good progress in the first quarter.
"We concluded the refocus of our portfolio, selling eight non-core businesses which will generate total cash proceeds of £7.5bn once completed.
"We have made excellent headway in reducing leverage, with debt reduction of £1.9bn in the first half of 2021 and we expect the leverage ratio to be around 26% at the half year. We are now focused on improving the growth and profitability of our businesses in the UK, Ireland, Canada and Aviva Investors."
So far, business sales have included exiting Poland, Turkey, France, Italy and Vietnam.
Nicholas Hyett, equity analyst at Hargreaves Lansdown, added: "For years Aviva has been a bit of a pudding of a business – a little bit of this and a little bit of that all mixed up, whacked in a pot of boiling water and served up to investors as a not very appetising mess.
"After years of talk and very little progress, Amanda Blanc seems to be finally delivering the slimming the group so badly needed.
"Eight disposals, worth £7.5bn in total, means the group is now more focused on its core markets of the UK and Canada. That should fund a hefty return to shareholders, exactly how and of what size remains to be seen."
Building momentum
Blanc continued: "We are pleased with the growing momentum in key areas as we capitalise on our leading market positions.
"Sales in commercial insurance continue to grow strongly, up 13% in the UK and 6% in Canada, while in UK personal lines we maintained premiums while growing market share.
"We have continued to support our customers dealing with Covid, including extending cover and deferring monthly payments for those experiencing financial difficulty.
"Our positive trading performance in the first quarter of 2021 reinforces our confidence in the targets we announced earlier in the year.
"Nevertheless, we remain sharply focused on further improving performance, recognising we still have much more to do, to deliver stronger returns for our shareholders."
Hyett added: "Aviva's not yet finished goods and we think is still some way off Legal and General's formidably effective business model.
"Only time will tell whether Blanc can turn what are, in theory, some very real assets into the dividend machine that a successful insurer should really be – the proof of the pudding is, after all, in the eating."
Yesterday, Aviva announced GI UK chief executive Colm Holmes's departure – he will be replaced by Adam Winslow.