A series of natural disasters has prompted a surge in popularity for catastrophe bonds. But, as global weather patterns get increasingly unpredictable, investors are demanding higher returns on their outlay
As the Arizona wildfire entered its 10th day, 480 square miles of earth already scorched and 3,500 residents forced to flee their homes, insurers realised they had missed a trick. No catastrophe bond had ever been dedicated to the possibility of a freak wildfire causing such destruction.
In the wake of the firestorm, which hit the south-western US state in early June, this is likely to change. Insurers and other financial sponsors are preparing to issue $4bn more cat bonds by the end of 2011, taking the total for the year to $6bn.
Cat bonds are a high-risk alternative to traditional reinsurance. The issuer sets up a bond for hugely destructive but improbable events. Investors are handsomely rewarded, in the knowledge that if a disaster causes great damage, the terms of the bond could be triggered and they could lose their money.
These triggers can include an issuer's actual losses being a specified percentage greater than the value of the bond, which is when they are entitled to use that money to cover the claims of their policyholders.
Following the earthquakes in Japan and New Zealand and the wildfire, and in anticipation of a particularly stormy hurricane season in the USA, interest in setting up cat bonds is on the increase.
John Seo, managing principal at specialist hedge fund Fermat Capital Management, says that it is "inevitable" that there will be a greater variety of cat bonds – both in geography and type – in the wake of these extraordinary natural disasters.
"Some cat bonds have a little bit of wildfire," he says, "but I wouldn't be surprised to see more dedicated to that in the future. Also, there will be more non-US cat bonds."
Costly move
Cat bonds were already on the rise before the Japanese disaster in March. Research by GC Securities showed that new cat bond issuance reached $1bn in the first quarter this year – more than three times the level of the same period in 2010.
These events have increased the need to issue the bonds, but investors are also demanding greater returns – or wider spread – in exchange for taking on increased risks. For example, the $300m Muteki bond, issued by Munich Re on behalf of the Zenkyoren co-operative in Japan, was triggered by the country's 11 March earthquake.
John DeCaro, founding principal at Chicago-based investment manager Elementum Advisors, says that the spread has increased more than 25% in recent months. "Spreads were roughly at 670 basis points on 28 February, and went through to 840 on 31 May. There's a certain need for investors to raise liquidity, owing to losses in the Australian floods and the earthquakes."
As such, life insurers and reinsurers – who would have typically invested in cat bonds – have had to keep hold of their money in order to cover their own losses. Such withdrawals from the market have affected secondary trading of bonds.
This means the values at which traders sell on investments have been hit. The trading value of the Mariah Re bond, which protects American Family Mutual Insurance against US thunderstorms, for instance, is said to have fallen 8% as a result of a particularly violent series of tornadoes that decreased demand to invest in the security.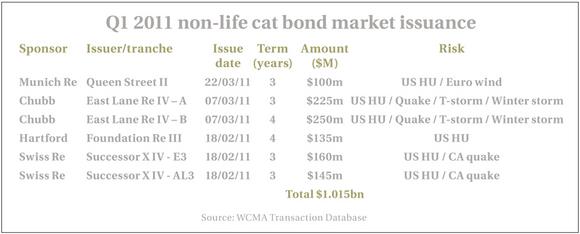 New players
One US-based insurance-linked securities adviser argues that despite six consecutive quarters of catastrophic events, dating back to the Chilean earthquake in February last year, he still expects spreads to reduce. It was thought that reinsurance rates would increase wildly and that the spread required on cat bonds would follow suit.
"Post-Japan, a lot of forecasts were predicated on reinsurance rates jumping 20, 30, 40%," the adviser explains. "We haven't seen this. It has been mid to high single-digits. Spread widening got ahead of itself, and I see those spreads coming back in."
Paul Schultz, president at Aon Benfield Securities, points out that investors know the risks when they buy cat bonds and so any losses in their trading values should be temporary. "From time-to-time there will be losses," says Schultz.
"But there is more and more interest from investors, because though cat bonds have their risks, they do reduce the volatility of their overall portfolio [as investors have a greater variety of securities]."
What is encouraging, he adds, is that new types of investors are entering the market. Whereas in the past a lot of investors were hedge funds, who typically looked for short-term returns and therefore did a runner when a catastrophe hit, pension funds are now pouring in money.
A pension fund takes a much longer-term view, meaning that its investment managers will accept a few major losses if, as expected, cat bonds make them money over a 20 or 30-year period.
"I'm pretty optimistic that this type of investor is a good investor," smiles Schultz.
Hopefully, these "good investors" will note that a cat bond is only likely to be triggered by a one-in-50 or even 70 year event, meaning that this will become one of the most attractive securities available. GR
Mark Leftly is deputy business editor at The Independent on Sunday