Long COVID, patchy vaccine rollouts, emerging digital threats, climate change and the US China relationship are Top 5 risks for 2021
The COVID-19 pandemic, emerging digital threats, climate change and the US China relationship are among the Top 5 Risks for business in 2021, according to the Control Risks annual RiskMap.
The danger of missing the rebound in a year of multi-speed recovery is a top risk for business in the coming year.
"There's no doubt that businesses will continue to face considerable disruption from the COVID-19 pandemic, but we believe that the opportunities are real and exciting for many companies in 2021," commented Control Risks CEO, Nick Allan.
Patchy vaccine rollouts, tensions between countries and within them, a lack of internationalist minded global leaders and a fragmented exit from the pandemic will challenge businesses.
"The relationship between companies and government and between companies and society has shifted and will be central to business strategies in the coming year," added Allan.
However, those companies that can accurately monitor developments, assess trends and show flexibility in adapting their operations will benefit from a projected surge in demand.
The global Top 5 Risks for Business in 2021
1. A world with long COVID
2021 will be a year of uneven recovery as vaccine rollouts create a world of haves and have-nots, with pockets of forever COVID at the bottom of the pecking order. Competition will be fierce between nations and within them. State budgets will creak under the weight of their new debt, pushing some countries to the wall, or forcing others into prolonged austerity. The relationships between state and business and between society and business will be critical for companies. If 2021 does not mark the end of the pandemic, it will be the year that determines what is left when the worst is over.
2. US-China: stabilisation without normalisation
While 2021 should see superficial stabilisation in the US-China relationship, the two countries will continue clashing across the current range of issues. Both are quietly keen to reset ties and focus on domestic problems and we can expect resumed cooperation on issues like climate change.
China is in its own "critical historical moment" and its domestic challenges outweigh external ones. If a Biden administration focuses on issues like human rights and efforts to coordinate multilateral pressure on China, this will clash with Beijing's core interests. Retaliation could follow and the cycle of escalation resume.
3. Go green or go bust
An inflection point is coming for the relationship between businesses and climate change in 2021. No organisation can now afford not to take a stance. As the acute and chronic effects of climate change worsen, dozens of nations, and the EU, have made net zero pledges. All members of the G7 are likely to commit to a carbon neutrality timetable.
The incoming Biden administration has pledged to re-join Paris "on day one". First mover governments will link international investment and trade policy to action on climate change. Laggards will need to consider a future where intransigence erodes competitiveness and shrinks export markets. Where governments lag, businesses, investors and activists will set the pace.
4. Digital acceleration hits emerging threats
The rapid adoption of new technology will continue in 2021, bringing ever greater connectivity. With connectivity comes exposure and rushed procurement will heighten the risks. Regulatory risks, including sanctions and bans on procuring foreign tech, will rise in 2021. Ideological and practical blocks are emerging rapidly.
The challenges for business will be opportunities for cyber threat actors. They will capitalise on increased connectivity and hasty solution adoption. In 2021, companies across the world will have to balance the drive for technological innovation with security, integrity and resilience challenges.
5. Missing the Rebound
The coming year will see strong GDP growth in multiple markets, the roll-out of vaccines and a world hungry to start living again. While progress will be faltering, an uplift is coming - do not miss the rebound.
If 2020 was about survival for many companies, 2021 is the time to focus on opportunity. Under the duress of COVID-19 many companies have flexed, not broken. Through innovation, rapid technology adoption and streamlining, they have emerged stronger, while weaker competitors have fallen.
Those companies that turn the efficiency gains of 2020 into productivity gains, continue to accurately assess trends and show flexibility in adapting their operations will benefit from the coming surge in demand.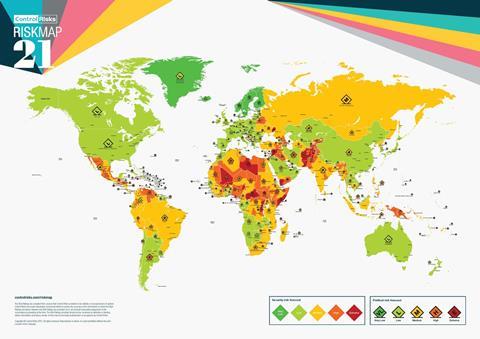 Risers and Fallers in RiskMap 2021
RiskMap is Control Risks' forecast of political and security risk across the world. Here are some of the more notable changes to the RiskMap 2021.
Italy
Security risk in southern Italy now matches the rest of the country and is rated Low. For a long time, Control Risks had judged the security risk posed by Mafia groups in the south to pose an elevated level of security risk to business. Recent improvements in state capacity and a drop in Mafia-related violence mean the Medium rating is no longer justified. Political risk across Italy remains at Medium.
India
The political risk rating for India is now Medium. This is stems from the revision of the contract risk sub-rating to Medium from Low.
Belarus
Belarus will remain a focal point of political and security risk in 2021. The civil unrest in response to rigged presidential elections in 2020 will continue for the foreseeable future.
Burkina Faso
Burkina Faso will have five provinces this year that move to High security risk, from Medium.
Mali
Political risk across Mali will jump to High from Medium following a military coup. 2021 will bring a volatile transition period to Mali, a country already confronting considerable security challenges in some of its regions.
Chile
Political risk in Chile rises to Medium from Low in 2021. President Sebastían Piñera's persistent political weakness becomes an increasing liability in the face of the country's upcoming constitution-making process, itself a source of instability.
Ecuador
In Ecuador, political risk drops to Medium from High considering President Lenín Moreno's institutional reforms to improve accountability and democracy.