'Financial pressures will continue to affect businesses' as the world's economies emerge from the pandemic, according to Insurance DataLab's Matt Scott
The Covid-19 pandemic has driven underwriting losses of more than £2bn in the Lloyd's market for 2020, according to analysis from benchmarking platform Insurance DataLab.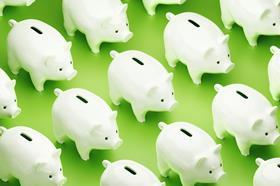 This is more than £1.6bn worse than the £0.4bn underwriting loss the market reported for 2019.
These losses have been worsened by the underwriting performance in the financial loss market, with the business line falling to a £656.5m underwriting loss for 2020, in comparison to an underwriting profit of £96.7m for 2019.
Insurance DataLab co-founder Matt Scott said: "The Lloyd's market has been hit hard by the Covid-19 pandemic, with business interruption and other pecuniary loss claims more than quadrupling over the last 12 months.
"The sector has already pushed through price increases, particularly towards the end of 2020, but more will be needed to offset the losses already experienced by the market to date."
Further financial pressures on insurance customers could mean that commercial underwriters face tough times ahead.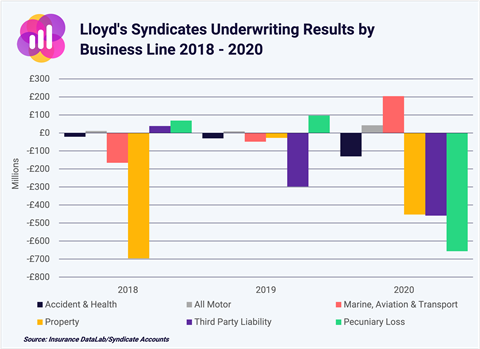 Downward pressure
Meanwhile, these underwriting losses also coincide with a drop in gross written premium (GWP) across the sector.
GWP in the financial loss market fell by more than a quarter to £530.2m over 2020, compared to £739.1m in 2019 and £946.3m for 2018.
These tough market conditions have also led to a hike in financial and professional (FinPro) liability premiums, with year-on-year price increases in the UK market peaking at 90% during the fourth quarter of 2020, according to the Marsh Global Insurance Market Index, last published in July 2021.
Scott added: "Financial pressures will continue to affect businesses as the world's economies continue to emerge from the pandemic and insurers must brace themselves for further failures among its customer base, which will only add further downward pressure on an already shrinking premium base."
On the flipside, premiums have increased by more than 50% year-on-year in every quarter since the start of the pandemic.
Therefore, across the whole of the Lloyd's market, only two business lines achieved underwriting profits for 2020.
Motor business reported a profit of more than £42.2m for 2020 (2019: £8.6m), supported by the reduction in driving miles during the pandemic.
Marine, aviation and transport business also reported underwriting profits of £203.8m, up from an underwriting loss of £48.6m in 2019.
Insurance DataLab is a new data insight service, focusing on the performance of insurers, Lloyd's syndicates, MGAs and brokers based in the UK and Gibraltar.