But demand for transactions in US dollars rather than euros raises concerns over focus on US risk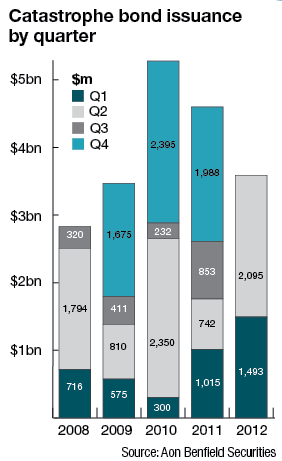 Catastrophe bonds should be immune to the eurozone crisis. They are issued to raise money against natural, rather than economic, disasters. Yet cat bond investors have found this widely held belief to be false.
For example, a pan-European cat bond that involves both euro and domestic currencies will be affected by the weak exchange rate that the former will have as the likelihood of a eurozone break-up increases.
Converting to euros
As Aon Benfield pointed out in a recent report, converting losses in local currency to euros (should the cat bond be denominated in the bloc's currency) could significantly reduce returns.
John DeCaro, founding principal of Chicago-based investor Elementum, says: "We're increasingly sensitive to European sponsors [cat bond issuers such as insurers] looking to do transactions in euros. We would prefer the money market solution to take place in the US.
We're now getting more granular information, it's much more transparent and more like traditional reinsurance - issuers are much more comfortable with using capital markets."

Dirk Lohmann, Secquaero Advisors
"Realistically, this has magnified in importance over the past year, beginning with the latest Greece bailout late last year and increasingly through 2012."
For all the desire to remove the currency risk by transacting in US dollars, there are still concerns that the market is still too focused on US risk.
This is a consequence of the history of the market, which developed from the levels of destruction caused by Hurricane Andrew in 1992. At the time, this tropical cyclone had caused the most expensive damage in US history.
Better data on risks
Dirk Lohmann, chairman and managing partner at Switzerland-based Secquaero Advisors, argues. "We want to see more product. We want to see other risks coming to the market. One of the challenges is that the market is highly concentrated on US risk, though that's probably not going to change."
On the plus side, Lohmann feels that issuers are now providing much better quality information on the risks that the bonds are covering than before the 2007 credit crunch. This allows investors to be more selective on which bonds they take on and to better structure their portfolios.
He says: "The information quality has improved over the past several years. There are a lot of detailed loss files now, whereas these used to be at a higher aggregate level.
"We're now getting more granular information, it's much more transparent and more like traditional reinsurance - issuers are much more comfortable with using capital markets."
At ease with cat bonds
The sense that insurers and reinsurers are more at ease using cat bonds is backed up by the figures, which are on the up following the macro-economic-driven slumps of 2009 and
2011. About $3.6bn of cat bonds were issued in the first half of this year, only narrowly behind the record-breaking 2007, when there was certainly more money floating around the capital markets.
Luca Albertini, chief executive at London-based Leadenhall Capital Partners, argues: "We're already close to $4bn of issued bonds. That's pretty healthy. There have been far more transactions and the market is definitely growing. Cat bonds is one of the markets that's working well in the securitised space."
He also points to new entrants to the market. This includes the mammoth $750m Everglade Re cat bond launched in the second quarter, which will provide 75% of the reinsurance cover for Florida's Citizens Property insurance.
On the whole, then, this appears to be a good time to be a cat bond investor - as long as the deals are made in the US dollar and not in the single European currency.