The broker predicts favourable revenue for Q4 if economic conditions improve following the Covid-19 pandemic
Broker Gallagher has reported that its net earnings are up by 22% in the three months to 30 September 2021, as published in its third quarter financial results released yesterday (28 October 2021).
In the first nine months of 2021, the broker's net earnings grew by 20%, from $756.1m (£550m) to $910.5m (£662.8m), while revenue increased by 15%, moving from $4.54bn to $5.21bn.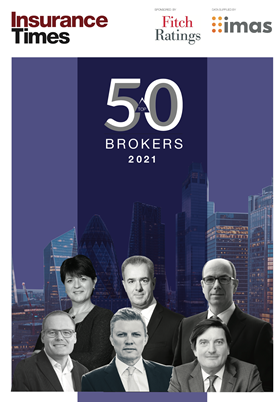 Gallagher's chairman, president and chief executive J Patrick Gallagher Jr said: "We delivered an excellent third quarter.
"Our core brokerage and risk management segments combined to post [a] 17% growth in revenue, of which 10% was organic revenue growth, net earnings growth of 22% and adjusted earnings before interest, taxes, depreciation, amortisation and coronavirus (EBITDAC) growth of 13%."
The firm also reported incremental costs of $15m and $25m in its brokerage segment, relative to 2020's Q2 and Q3 - it expects to see higher costs again in Q4, relative to the same quarter in 2020, of approximately $30m.
M&A remains buoyant
If economic conditions continue to improve post-pandemic, the broker predicts it will see a favourable revenue amount that is greater than it initially predicted for Q4 of 2021.
Gallagher's chief executive for Europe, the Middle East and Asia Simon Matson said: "Our new business pipeline has been extremely strong with notable growth in our construction, financial risks, property, education and public sector client base.
"M&A activity remains buoyant and earlier this month we announced the acquisition of Manchester Underwriting Management, which will become part of our Pen Underwriting division.
"Also, this month we completed the integration and rebranding of Bollington into our retail division, giving us a springboard for further growth in a number of areas.
"We continue to look for M&A opportunities in the UK and currently are in conversations with a number of potential merger partners - we expect to complete further deals later this year and into Q1 2022."
In the first half of 2021, Gallagher achieved 9% organic growth.
Matson continued: "This is a fantastic achievement and was shared across all our trading divisions, with specialty and retail contributing 12% and 6% respectively."
However, if economic recovery slows following the pandemic, Gallagher believes it could reap less revenue benefits than Q2 and Q3 of 2021.
Significant savings
In Q3 and Q4 of 2020, as well as in Q1 2021, Gallagher realised significant expense savings due to reduced travel, entertainment and advertising expenses, lower costs from employee medical plan utilisation, a reduction in workforce, wage controls and reduced use of external consultants.
These savings totalled approximately $60m to $75m per quarter, relative to the prior year's same quarters.
"Recruitment has continued apace over the last three months and I am delighted with the level of talent that is joining Gallagher," Matson said.
"We put a great deal of focus on making Gallagher a great place to work with excellent career opportunities and we've added 240 new employees to our UK team during the last quarter."
Gallagher Jr added: "Overall, the [property and casualty] premium increases we saw during the third quarter of 2021 were consistent with the first half of the year.
"Our clients are healthy and focused on growth. Our team is engaged, energised and well positioned to assist clients and prospects as they navigate their growth challenges during a difficult insurance environment."