GR brought together 10 London-market executives to discuss penetration, awareness, and competition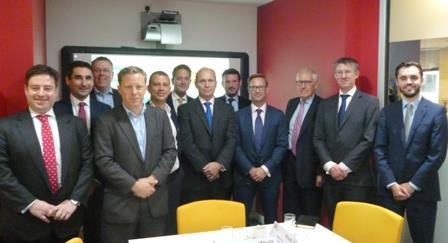 Senior merger and acquisitions (M&A) insurance executives gathered in London last month for a GR roundtable on the state and outlook for the market.
The event, held under the Chatham House rule and in association with Allied World Assurance Company (AWAC), discussed some of the current challenges to the M&A insurance market and also looked at the possible future of the sector.
The event began by discussing why 95% of M&A deals are not covered by insurance, according to a recent study.
"I'm surprised it's that high," said one participant, noting that 5% was an impressive figure.
"5% sounds about right for the UK though," said another attendee, and added: "Some jurisdictions might have a lot more, like Sweden or Australia."
"The US might be only 1%, yet it's the biggest M&A market," said another executive.
The slow increase in penetration of M&A insurance is largely due to parties becoming more accustomed to using the product and trusting it in the ten to 12 years since it was first popularised, one participant said.
"Five years ago, the figure was 1%," he said. "So another way of looking at it is 'what's caused this massive rush in the market?' But there is still a long way to go."
The recession helped the M&A insurance market, said one broker: "It was the best thing that happened to the sector, in my view."
ROUND THE TABLE
Jack Grocott, GR
Andrew Graham, AWAC
Daniel Max, Marsh
Simon Tesselment, Aon
Ben Crabtree, JLT
Ben Brindle, RCA Europe
Adrian Furlonge, HWF Partners
Chris Halliday, Eversheds
Jason Zemmel, CMS
Richard Bull, Norton Rose
Dan Barton, Cooper Gay
Adam Fox, A.J. Gallagher
Meanwhile, another attendee noted that the market has changed dramatically since its inception, when there were only a small number of brokers and underwriters handling the line.
"Some of that increase has come down to the fact that there has been a huge amount of effort, from lawyers and brokers and underwriters, that has fuelled the growth," said another roundtable speaker. "In those areas that invested in it, it is no surprise to me that we've seen that increase."
"I think if you had this meeting in another year's time, there would be another exponential increase, said one M&A expert. "There has been much more investment recently."
The number of M&A deals that could be covered by insurance has also increased recently, said another guest: "You've got to look at the percentage of deals where insurance is in play, and I think that number has gone up."
A classic example is parties in a private equity exit looking to buy M&A insurance, the guest noted.
Another attendee doubted the integrity of the 5% figure at all: "The 5% sounds very arbitrary."
One M&A executive noted that market premium was currently approximately $0.5bn, and said that this figure would have been as low as $50m at the birth of the M&A insurance market.
However, other participants said that this figure was difficult to judge either way.
Client demands
The roundtable then shifted the debate on to the question of what modern M&A insurance clients were asking for.
"Flexibility in policies now is key to growth," said one attendee, who said that this was a fairly fresh introduction to the sector.
Some clients might discount M&A insurance entirely, simply because of ignorance that still persists, noted another guest: "If I'm not that steeped in a product I might not want to talk about it front of a meeting, because I'm not that informed."
The product still suffered from low awareness in many areas, the roundtable agreed, but said that this was changing slowly.
"A lot of it comes down to setting the scene properly from the beginning, and it is the brokers' job to do that," said one guest. "There need to be experienced people in the transaction from the very beginning."
The roundtable also noted that the market had a stronger broking community than ten years ago, but a weaker underwriting sector.
"The problem we've now got is underwriting," said one guest.
"I think the quality of underwriters at a number of houses is less," added another.
Market challenges
The roundtable concluded by examining the likely future of the M&A insurance market, as well as challenges facing it.
"The biggest threat will be the destruction of credibility of the market by a claim that isn't paid," one guest said.
"More capacity" was another attendee's view. "There has been a big swing towards broking," he said. "I think what is not being replaced is the quality and quantity of underwriters. That is the biggest threat."
Another guest said that the state of competition in the market would change: "In a year's time I think there will be some insurers that leave the market, perhaps not the bigger players."
"There are more claims, and the numbers are getting bigger," noted another guest.
A lack of profitability is also likely to affect some M&A insurers in the near future, said another guest: "There will be some insurers in this line of business that don't make any money this year, or next year."