Chief executive confirms that nearly 4,000 full and final or interim BI claims payments have been paid as at the end of July
Insurer Hiscox has returned to profit in the first half of 2021, reporting profit before tax of $133.4m in the six months to 30 June 2021, compared to a loss of $138.9m over the same period in 2020.
The insurer, which published its half year financial results this morning (3 August 2021), also recorded improvements in both its gross written premium (GWP) and net premiums earned.
GWP grew by 8.5% in the first six months of 2021, moving from $2,235.5m last year to now stand at $2,426.2m. Net premiums earned, meanwhile, increased from $1,328.2m in 2020 to $1,423.1m at the end of June 2021.
The group's combined operating ratio also saw an improvement, moving from 114.6% last year to 93.1% for 2021's first half.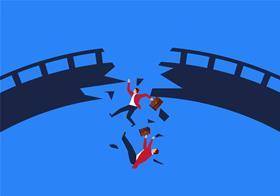 Speaking on the results, Bronek Masojada, Hiscox's chief executive, told Insurance Times: "I'm really pleased with a good set of results. The market has been improving and Hiscox has taken full advantage of that and benefited from that.
"It's fair to say that the market movement has been greatest in the reinsurance and the specialty insurance area, but I know even in the UK market there's been price rises as well.
"A big part of the results is the ongoing growth of digital – around the world it's in the mid 20%. It's all growing very strongly and clearly, combined ratio of 93% we're very happy with.
"All in all, a good improvement year-on-year – it signals Hiscox moving forward positively and we see lots of opportunity ahead of us now."
BI claim priority
In terms of Hiscox's Covid-19 loss estimate, this remains at $475m for 2020, confirmed Robert Childs, the insurer's chairman. Regarding the lockdowns that took place in 2021, the loss estimate is $17m.
Hiscox is also in the process of paying Covid-linked business interruption (BI) claims following on from the Supreme Court's judgment in January.
Masojada told Insurance Times that the insurer has "made full and final payments [for] over 2,000 claims" as at the end of July.
"In total, we've made almost 4,000 full and final and interim payments. Obviously, if someone is first interim and then full and final, we don't double count. So, we've paid almost 4,000 full and final or interim [payments]," he explained.
On this, Childs added: "To confirm how some policies respond we have had to wait until July for the Supreme Court's declarations to be published, which is the final outcome of the legal process.
"Applying the terms of the judgment to a wide variety of situations and in large volumes does unfortunately take some time.
"We are making progress here, more than doubling the number of claims settled in May and June. Settling these claims remains a high priority for the group.
"The UK business interruption book has now been fully renewed with the appropriate pandemic exclusion terms. We have maintained continuous and transparent dialogue with our reinsurance panel throughout the pandemic and remain confident of our reinsurance recoveries."
Masojada said paying backlogged BI claims linked to the pandemic is "one of my personal priorities" ahead of stepping down as chief executive at the end of the year.
Masojada will be replaced by Hiscox's former chief financial officer Aki Hussain from January 2022.
Financial figures
As for Hiscox UK, Childs said "broker commercial performed well, with a number of large schemes launched in the first six months of the year".
However, "reduced activity in events, entertainment and hospitality had an approximately 2% adverse impact on Hiscox UK's growth in the first half of the year".
For this part of the business, GWP grew by 13.2% to reach $411.2m in 2021's first half, compared to $363.3m for the same period in 2020.
Hiscox Retail
| | H1 2021 | H1 2020 |
| --- | --- | --- |
| GWP | $1,216.4m | $1,127.3m |
| Profit before tax | $31.7m | Loss of $82.2m |
| COR | 100.7% | 117.1% |
| COR excl. Covid and loss portfolio transfer cost | 96.7% | 96.1% |
Hiscox London Market
| | H1 2021 | H1 2020 |
| --- | --- | --- |
| GWP | $609.9m | $555.9m |
| Profit before tax | $87.3m | $16.3m |
| COR | 81.7% | 105.2% |
In addition, "rate momentum continues to be favourable across all Hiscox businesses", Childs added.
This includes a 20% rate increase for cyber, linked to the uptick in ransomware claim frequency and severity, while Hiscox London Market achieved an average rate increase across the portfolio of 12% year-on-year.
In Hiscox Retail, meanwhile, rates have increased by 5% on average and are rising in all regions.