The Spanish reinsurer did not succeed in getting SRCC exclusions and restrictions it sought during July's Latin American renewals, and wants to tighten terms for social unrest risks in 2024, MAPFRE RE's CUO told GR at the Monte Carlo RVS.
Strikes, riots and civil commotion (SRCC) is a concern for MAPFRE RE within its Latin American property treaty portfolio, the reinsurer has revealed to GR, speaking at the Monte Carlo RVS.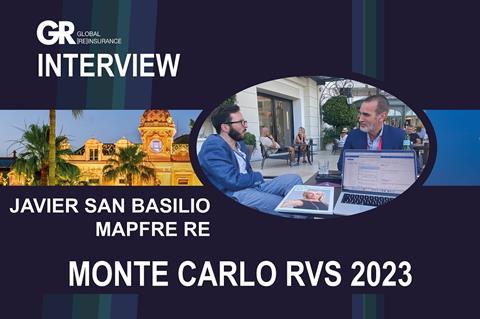 MAPFRE RE, which is a major player in Latin America, is concerned that political violence can continue to be a significant "secondary peril" in the $1bn range, and has resulted in bigger losses in some losses than natural catastrophe activity in the region.
"There is no clear definition and there's no clear price being charged. This is not the way for us to operate for as a reinsurance company," said Javier San Basilio, chief underwriting officer, MAPFRE RE.
"It's been a year of significant political discontent, and we don't want another secondary peril throttling the market," said San Basilio (pictured, right of photograph, talking with GR editor David Benyon at the RVS in Monaco).
Latin American markets are crucial to Spanish-based international insurance group MAPFRE. It is the leading international non-life carrier in the region, and LatAm reinsurance markets also make up a significant portion of the book of its reinsurance arm, MAPFRE RE.
"As a group, we have a very meaningful presence in Latin America. This is a very common issue and we've been concerned about this for many years, but we need this market, he said.
As a result of that reliance on its relationships within the region, San Basilio suggested that MAPFRE RE got some of what they wanted in July, but far from all of it.
"We pushed very hard at 1/7 for it to be a relevant conversation. We expected SRCC to be a significant conversation at the last renewals in Latin America. There didn't seem to be much of a conversation," he said.
"We ended up not having the [SRCC] conditions that we wanted on the treaties. We wanted it to be refined; we wanted it to be more restricted; and we wanted to be excluded in certain territories," he continued.
"We got a better definition of the risk, we got more of a containment of the risk, but the conversation was not as relevant and the changes were not as meaningful as we wanted them to be. We're going to keep on having the conversation and keep trying to make the cedants understand that this is an issue," San Basilio added.
Perhaps a quarter of the LatAm market would renew at 1/1, San Basilio estimated, but the bulk of the region's annual renewals conclude in July.
However, the current run up to 1/1 renewals provides an opportunity to exert SRCC pressure in European markets – coming after summer of civil unrest across France.
His SRCC concerns echo those of Jean-Paul Conoscente, CEO of SCOR Global P&C, speaking to GR in the run-up to this year's RVS event in Monte Carlo.
Conoscente complained that SRCC is a risk "practically been given away for free" by reinsurers on their treaty programmes for insurers' property all risks portfolios. He had been alarmed by the political violence in SCOR's home market of France.
"In 2019 and 2020, there were the Chilean protests, which created a big market loss, and this year riots in Paris and across France have been a big wake up call. This type of event can result in a $500m to $1bn overall insurance market loss. Therefore, I think SRCC will be an area of increased focus at upcoming renewals," Conoscente said.
Gianfranco Lot, chief underwriting officer of property and casualty reinsurance, Swiss Re, acknowledged the issue, speaking at the reinsurer's press conference at the Monte Carlo RVS, focusing on the need to reduce the geographical spread of exposures, amid an era of social media-driven event correlations.
"Across a lot of policies that would aggregate into the cat treaties," he said. "We spend an awful lot of time on assessing the potential, and thinking about how this risk has changed over time. With social media, for instance, there is increased connectedness between different countries and different cities.
"Today, it's much easier to organise a riot across different cities. Of course, that is a big issue for us. On the nat cat treaties, we're looking to make sure that the temporal and geographical spread that could happen is somewhat limited and confined," Lot added.
Additional grounds for concern in 2024 are that the macroeconomic environment remains uncertain, with the rate of inflation slightly reduced in recent months in some key markets but not yet tamed to a high degree of confidence by central bankers, as witnessed by stubbornly high interest rates.
"Inflation is fuel for social unrest," warned San Basilio. "For LatAm, the whole region concerns us with a few exceptions, such as Costa Rica. Colombia is risky, and Argentina we don't know what is going to happen around their upcoming elections. Chile seems to be more peaceful now, but the underlying tensions are there. It's the whole of the region."
"In Europe, we have the succession of events in France in the past few years, and I don't think it's getting any better. But even in Spain, our home country, people have been very concerned about social unrest in the past couple of years, although nothing major has happened."
Make sure you also check out the interview with MAPFRE RE's CEO, Eduardo Pérez de Lema, conducted in the lead up to this year's Monte Carlo event and featured in the RVS special issue of GR.