Transparency for investors and clients together with "institutionalising" corporate governance, are at the centre of Trust Re's new chief executive's plan to return the reinsurer to a growth trajectory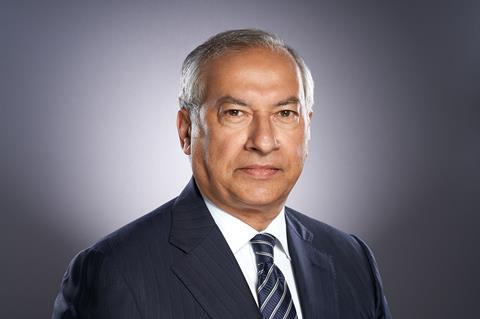 Trust Re's new CEO Talal Al Zain is on a mission to rebuild the reinsurer's premium back to where it was in 2017 and beyond, after first repairing its relationship with Bahrain's regulator, constructing new corporate governance structures and getting its rating back.
While the Bahraini reinsurer has taken a knock, losing more than half of its portfolio within the past two years, he told GR that its brand strength has enabled it to continue underwriting a core of loyal business ready for it to rebuild its book in 2020.
Al Zain joined the reinsurer in April 2019 from a finance and investment background of 38 years. Before running his own company, he managed Bahrain's sovereign wealth fund for four years.
"The primary reason for my joining the team is to work with members of the executive committee and board of directors to bring back Trust Re to where it was before," he said.
In 2017 the company underwrote around $530m of gross premium. At the close of this year Al Zain noted Trust Re will have a book of just over $200m gross written premium.
"The cause of this drop is of course that we lost our rating," Al Zain said. "The reason for that was the delay in issuing our financial reports for 2017 and 2018, but that is behind us now."
From a technical point of view, he emphasised that Trust Re has maintained its skills in the reinsurance space, which he says has paid off in the loyalty showed in some enduring client relationships.
"It is hard to write reinsurance business without a rating, but the team has been able to continue because of the strength of the brand in the market," he said.
"I've seen that strong support from clients across markets," Al Zain added.
His first month at the Bahraini reinsurer involved something of a round-the-world trip – travelling to Dubai, Asia, Europe and to North and South America.
"Across the world, there was a lot of goodwill and support for Trust Re and for our technical team," Al Zain said.
Rebuilding the reinsurer's dented relationship with its regulator, the Central Bank of Bahrain, has been another priority for Al Zain.
"The issues were purely on the corporate governance side, which were a negative factor in the relationship with our regulator.
"Part of my role has been to work closely with the regulator to bring back that strong relationship we've had in the past."
He described the direction from the Central Bank of Bahrain as "building up the institutional side of Trust Re" to improve corporate governance and transparency.
This has included a step back so that no immediate member of the owning family has a position within the management team.
"It's a separation of ownership and management. The company's board of directors is also 100% independent," Al Zain said.
The company also set up a management committee of six people, including himself, and the company's chief financial officer, chief operating officer, chief risk officer, and the company's two legal and compliance chiefs.
Al Zain has focused on introducing a new corporate governance framework, hiring a legal firm to advise on the process, as well as assessing its compliance function.
The third part of this governance and transparency process is perhaps the most interesting.
The company has created a new "data room" focused on transparency – opening its doors to scrutiny.
"This data room is so that any third party, whether a prospective client or an institutional investor, provided they sign a non-disclosure agreement, can have access to view our internal data," he added.
Going into next year, Al Zain still has his work cut out.
"We're re-engaging with the rating agencies to regain our rating standard. The aim of all this is of course to bring back our business to where it was – and to go beyond that," he said.
Traditional focuses for the reinsurer include Asia, MENA, Africa, Russia and Eastern European markets, Al Zain noted.
"Emerging markets have always been our strength. Being careful and prudent, that is where we continue to see growth."