China, India and Vietnam represent health reinsurance opportunities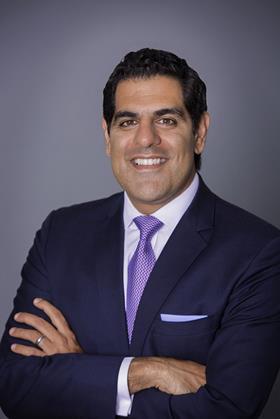 Steve Arora, chief executive at Axis Re, told GR that it has set out new priorities as a result of standards for the industry changing.
He explained that wants to make his clients priorities Axis's priorities, with a focus on paying claims quickly and fairly and to address the need to deliver new solutions to clients.
Arora said that Axis aims to be "relentlessly responsive" and Arora believes it is this that will distinguish the reinsurer from its competitors with the overarching aim to be a different style of reinsurer.
"The reason I say this is because it is a new era that is both exciting and challenging, there is economic volatility, geopolitical uncertainty, climate risk changes, and protection gaps, which are growing," he continued.
Arora (pictured) added that because the Asian re/insurance market has incurred significant losses in the past few years due to natural catastrophe, it comes down to firms finding the risk-reward balance to ensure future sustainability.
"That being said it is also an opportunity for the market to be resilient and to make the necessary corrections that are needed to ensure a healthy environment in the long-term," he added.
Axis is committed to Asia, Arora said, calling it a key piece of its global strategy, focused on being a long-term partner for cedants within this market.
Last year at SIRC in a panel discussion, Arora told delegates that technology would be an enabler for the sector. He said he still sees data as an opportunity for the industry, but it is up to individual companies to make better use of data.
Human interaction is still vital, he emphasised. "It all starts with making employees feel valued, a sense of belonging and a sense of meaning and purpose," he said.
"One area where we aim to differentiate as a company is to complement the performance culture with a human culture, so not only do we need the human element in underwriting, I think we have to continuously reinforce a human culture to make our employees feel valued. That will ultimately lead to our successful business."
Les Loh, president at Axis Re Asia Pacific added that because insurance is an intangible product, and increasingly transferring intangible risks, human skills are particularly vital in specialty lines.
Loh said that the industry is facing two challenges – the primary insurance market is still fiercely competitive on pricing, and regulation in the market is also changing. The industry needs to be well prepared for these challenges he added.
Targeting health business
Loh, told GR Axis is pursuing growth opportunities in health reinsurance business within emerging Asia.
"A unique growth opportunity we can see is within health business emanating from China, India and Vietnam," Loh said.
"The growing availability of data will help drive the products that best meet the demand."
He emphasised the continued gap between Asia's mature economies and its emerging markets.
"The Asia Pacific reinsurance market provides coverage across a diverse set of circumstances and geographies. On one end of the spectrum, there are very mature markets, and on the other end of the spectrum, the Asia Pacific region has several emerging market sectors," said Loh.
Many aspects have remained consistent where quality, capacity and specialty service are highly valued, he emphasised.
"For the emerging market, the demand for reinsurance has remained steady over time, but we have seen clients looking for consolidation of their reinsurance panel and request for more in-depth specialty services and responsive portfolio management as a reaction to changing risks in Asia Pacific and throughout a globally connected reinsurance industry," Loh added.