This year's event is "the largest SIRC ever", organisers boast, welcoming 1,130 delegates from more than 400 organisations and 53 countries to Singapore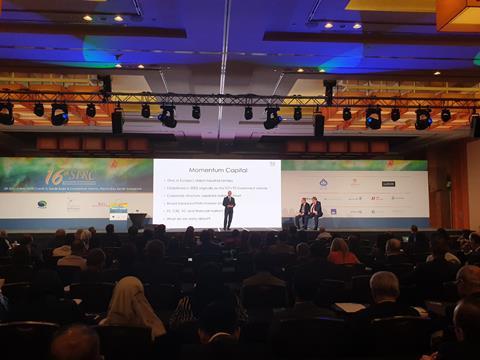 The opening debate at SIRC this year focused on "the future of the industry", at a time when the event theme of "the winds of change" arguably represents a looming storm for many players within the reinsurance industry.
The sector's business model is seen to be under threat, warned Tobias Poensgen, CEO, Momentum Capital, representing an outside perspective, as an investor backing some $60m in insurance linked securities (ILS).
"Looking at reinsurance, there may be winds of change, but is there perhaps a storm on the horizon?" Poensgen mused, in front of assembled SIRC delegates at the Marina Bay Sands event venue on Tuesday.
"You cover risks, but there are also risks that are coming your way," Poensgen cautioned.
"There are external risks, internal risks, and questions about the whole business model of the industry for reinsurance as well as for insurance companies on the customer facing side," he continued.
He pointed to various technological, cyber, political and regulatory risks, as well as the cost-of-capital threat presented by competing ILS structures.
"There is disruption coming from all sides. We as investors feel there is a lot of turbulence," Poensgen said. "Investors believe there's a lot of change coming.
"Yet on the inside there is a lot of inertia in the insurance and reinsurance business. You all think you have a wonderful business model that will outlast any attacks. Is your product capital efficient? We don't know," he warned.
As an industry insider, Dominic Christian, global chairman, Aon Reinsurance Solutions, offered a slightly more upbeat view about the challenge ahead.
"I stand here as a veteran, highly unsurprised that the reinsurance industry remains both robust and grounded," said Christian. "We do our job well," he said.
"Brokers have changed fundamentally. We were dating agents. We're now data agents," quipped Christian.
Brokers still viewing their role as transactional rather than as risk consultants have scant if any role in the future industry, he warned.
How the reinsurance sector increases its role within the wider scope of risk in the world will be crucial to its future, he stressed, highlighting the relatively small pool of reinsurance compared to the broader risk transfer potential.
"In terms of how this growth relates to reinsurance premiums, we estimate that we will see a powerful increase from $180 of non-life global premiums today to $300bn in 10 years," said Christian.
"This will be driven by our evolving world of risk, the increasing collaboration between public and private sectors to close the protection gap and covering currently uninsured risks – such as economic slowdown and fluctuations in exchange rates – with new solutions such as parametric covers," he said.
"Transformational change" is at hand, Christian admitted, he pointed to the industry's track record dealing with previous harrowing periods, including Asbestos exposures, the aftermath of 9/11, and later the global financial crisis. "We have met these challenges," he said.
Christian also suggested it would be "a battle for ideas rather than a battle for processes" that will carry the day, chiming with Poensgen's comments about the need for product and technological innovation.
Poensgen's remarks also focused on the importance of family businesses, whether as long-term investor potential or from a risk transfer perspective.
"Rest your eyes on $5.5trn in family offices," he said.
Poensgen also noted that reinsurance had been relatively insulated from technological changes affecting primary insurance business model, but that this would change, again alluding to ILS.
"New reinsurance markets are emerging; but where will they take you? Do you need to offload capital to other players in the way the ILS market has done," he said.
Both Christian and Poensgen suggested ILS will return with new capital in January, despite the challenges of two years of serious catastrophe losses and trapped capital.
"ILS is still a nascent market. It's an interesting disruption of the space. It will grow," Poensgen said.
Christian focused on the ILS-dominated retrocessional market. "The question is what happens to the retro market next year? Because it's going to have suffered losses again," he said.
For now, investment capital remains attracted to the sector, Poensgen noted, albeit part of the threat, in ILS form.
"Reinsurance continues to be an attractive investment – we'll see," Poensgen added.