Defining the pro-democracy protests as terrorism could impact insurance policies, as the cost of the demonstrations continues to rise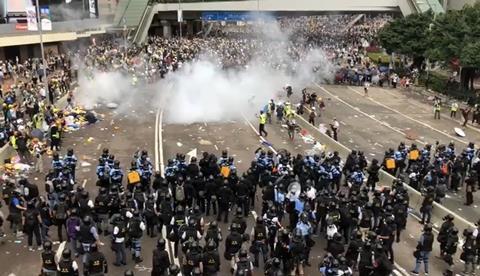 Hong Kong's economy has entered recession after more than five months of pro-democracy protests that show few signs of relenting, causing injuries, physical damage and disruption to business in the Chinese offshore territory, and posing questions for the insurance sector.
As clashes have turned violent between police and protestors, re/insurance leaders are beginning to discuss the consequences if the government calls the pro-democracy protestors terrorists to justify a clampdown.
Beijing is frustrated by the standoff within the offshore territory and former British colony, facing a political dilemma between clampdown and compromise, under unparalleled international scrutiny.
The territory's leader, Carrie Lam, has so far stopped short of calling the anti-government protestors terrorists, but recently provoked further exchanges of violence by issuing a ban on protestors wearing masks at public assemblies
"The protests have turned violent, Molotov cocktails have been thrown, and police have used tear gas and shown brutality in return," one senior reinsurance source based in Hong Kong, who preferred not to be named, told GR.
"The protestors are saying 'if we burn, you burn with us'. It's hard to hear that from an insurance point of view and not think terrorism. Look up the Oxford English dictionary definition: there is physical damage and there is a political aim," the source said.
So far, the weight of public opinion is on the side of the protestors, backed up by international pressure, the source emphasises.
"The government has not declared this terrorism. However, for any company with a terrorism cover in place, this would be a hair trigger on pay out for injury to people and damage to property," continued the source.
Hong Kong is a city of seven million people, and between one and two million of those people have been out on the streets protesting.
"There are perhaps 100,000 at the core, but families have joined protests. The protestors have got a huge amount of leniency, the government has not called them terrorists. but it's a fine line," the source added.
Individual insurance policies will differ for political violence and terrorism triggers and exclusions.
"It's incredibly complicated. Every insurer and every policy will have a different application," said another reinsurance market source in Hong Kong.
"The three main classes of business to focus on would be property, construction insurance and employees' compensation," the source said.
In Hong Kong, employees' compensation for terrorism events has been transferred from the insurer to a government backstop in the post 9/11 era.
"Most likely, a policy would have a war and terrorism exclusion but some elements of cover for riots, strikes and civil commotion. But even for those that define it, there is little or no defining line," the source added.
Claims so far have reached around $77m, the third-highest amount in the city's history by incident, but relatively low in international re/insurance terms.
Local rail operator MTR and lenders such as Bank of China have been among those making claims, according to a story published online yesterday by finews.asia.
MTR alone may seek up to $13m, according to a South China Morning Post (SCMP) report citing an anonymous estimate, with banks and businesses adding another $13m to rebuild outlets, branches and ATMs.
Business interruption (BI) costs add to the picture, some of which has already been claimed.
Some $52m of claims could be made by hotels, banks and shops for BI losses, according to the same finews.asia story. Event organisers and travellers were also likely to file claims, the report added.
Hong Kong's airport has faced disruption, including many cancelled and delayed flights.
"People were stranded overseas," said the first reinsurance executive source, adding: "There was an Asian actuarial conference in October, which was moved to Singapore because of the disruption."
The second source pointed to unrest in Thailand in recent years, which led to some insurance disputes over whether claims should be made under property or terrorism covers, in cases where insureds had both policies in place.
"It's not a simple answer. There is a lot of debate in conversation about what's covered and what's not," the source says.
"At this point, claims are for the most part generally quite small and I'm not aware of any claims being denied. The question is when there's a big claim how insurers will respond," they add.
The cost of the protests would slide Hong Kong's economy into recession, the city's financial secretary, Paul Chan, wrote in a blog post on Sunday, before the economic data are published on Thursday.
Chan complained that tourist numbers had fallen by nearly 50% and business had been compelled to shut shop until conditions changed.
An SCMP story estimated the cost to Hong Kong's economy was at least $356m over the recent 'golden week' holiday period, citing local analysts and business leaders.
Asia-focused insurer AIA Group this week posted its smallest ever quarterly growth in new business value, as the Hong Kong protests hit sales of insurance products to mainland Chinese visitors.
"The blow to our economy is comprehensive," Chan wrote. "Let citizens return to normal life, let industry and commerce to operate normally, and create more space for rational dialogue."