Insured losses from natural catastrophes in the first half of 2023 were driven by a series of big US storms and El Niño's arrival.

The insurance industry's natural catastrophe claims bill was 18% higher than the decade's average for the first half of 2023, according to Gallagher Re.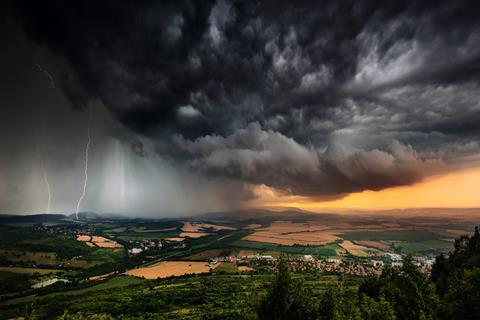 Total direct economic losses from natural hazards for the first half of the year were preliminarily estimated at $138bn, some $52bn of which was insured.
The $52bn figure for 2023's first six months is some 39% more than the 21st Century average of $38bn, Gallagher Re highlighted.
The decadal average for the first six months of the calendar year is $44bn, the broker said in its "H1 2023 Natural Catastrophe Report", published today.
"To put it simply, extreme weather and climate events are anticipated to become more severe," said Steve Bowen, Gallagher Re's chief science officer.
"The physical risks associated with natural hazards, and the financial and human costs associated with these events, continue to grow," said Bowen.
"We witnessed a series of significant events during the first half of 2023 that puts further spotlight on the need to close the protection gap by better preparing for the increasingly consequential events that the world continues to endure," he added.
Highly dominant SCS
Severe convective storm (SCS) was "highly dominant" as the first ranked peril for the insurance sector, according to Gallagher Re.
SCS accounted for some 65% of all insured losses in the year's first six months.
That amounted to $34bn to date, after a "highly active" multi-month series of outbreaks across the US, Gallagher Re said.
Thunderstorms in the US and the global impact from El Niño's arrival drove higher nat cat losses, said the reinsurance broker.
A "very active pattern" of SCS led to prolific series of widespread outbreaks across the US that resulted in at least $34bn of insured losses, the broker said.
It was expected that continued loss development could push 2023 past 2011 as the costliest on first six months on record for US SCS insured losses.
For all perils, the US accounted for 76% of all global insured losses, according to the broker.
Thunderstorms in Europe during June also brought a billion-dollar insurance bill to parts of Germany and France.
El Niño's arrival
El Niño's coming is poised to have further influence on global weather climate events through the end of the year, the broker emphasised.
Gallagher Re's analysis was based on the views of the US National Oceanic and Atmospheric Administration and the World Meteorological Organization.
"The arrival of El Niño brings the potential for even more global disruption and impacts from weather and climate events through at least the rest of the year," said Bowen.
"While El Niño historically causes the globe to become warmer and leads to more volatile weather patterns, the ongoing influence from climate change will only amplify associated impacts to life and property
Protection gap at 63%
The differential between economic and insured losses meant an overall protection gap of 63%, Gallagher Re said.
The first half of 2023 total for solely weather or climate events, excluding earthquakes or other non-atmospheric-driven perils was a $92bn economic loss, or $46bn insured.
These totals, rounded in some cases, are subject to change as loss development occurs and new data are obtained, Gallagher Re cautioned.
Bowen said: "Governments and private organizations are accelerating their investments to help ensure the world is proactively prepared to handle our quickly evolving physical and non-physical hazard-related challenges.
"Climate change is often discussed in future tense, but we are already seeing more evidence of its effects today," he added.