Lloyd's CEO John Neal addressed SIRC 2019 about Asia's place within the Blueprint One strategy for the future at Lloyd's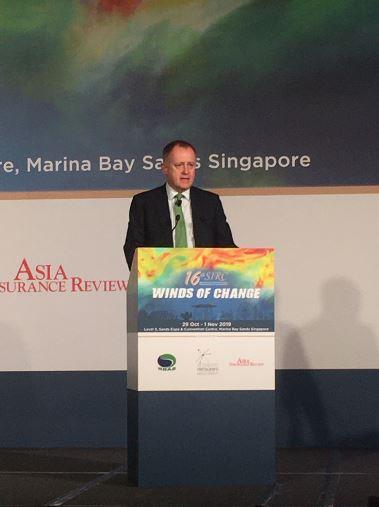 Asia Pacific's booming re/insurance markets are pivotal to the Future at Lloyd's strategy for growth, John Neal has told delegates at SIRC 2019.
Neal's plans to grow the London market – which operates a hub in Singapore – can't succeed without Asian premium volume, he emphasised.
"This is a region that we are committed to for the long-term particularly as we celebrate our 20th year in Singapore this year," he said.
"Asia Pacific remains attractive to Lloyds, the region represents a significant source of capital coming into the marketplace, and roughly 15% of the capital that sits behind Lloyd's businesses comes from Asia," Neal added.
Not counting 2011's exceptional catastrophe losses – the year of the Thai Floods, Tohoku Tsunami and Christchurch Earthquake – the average combined operational ratio since 2010 has been 94% for the region, he explained.
"As we know insurance penetration in the region is extremely low," Neal said.
He stressed there was plenty of room for Asian growth for Lloyd's, noting that despite the region's protection gap, in 2018 Asia Pacific accounted for just under 12% of Lloyd's premium income.
Neal said he wanted to increase the efficiency of the Lloyd's Asia platform, providing greater ease of access and making it a more attractive partner to work with.
Priorities include performance, strategy, culture and people, he told SIRC delegates.
Premium growth in Singapore will come from a combination of new initiatives within Blueprint One, Neal suggested, led by the platform for complex risk and the risk exchange for simpler risks.
It will also be driven by new business and innovation, led by the "syndicate-in-a-box" concept, he suggested – recently backed by both two giants of the insurance world Munich Re and AIG.
"In combination, we think that the Future of Lloyd's will make Lloyd's Asia much more profitable and offer a much more attractive end-customer experience," he added.
But Neal also warned that Lloyd's must make "meaningful change" for its Blueprint One plan to succeed.
"This means building technology and data solutions instead of bricks and mortar. It means making it easier for new and innovative business to come to us at Lloyd's so that we can close that [protection] gap. It means attracting investors back to our underwriting, so that customers can insure all the risks they place. And it means harnessing technology to drive down cost and increase profitability," he concluded.