A Ukrainian war risk loss event database, developed by Guy Carpenter and Oliver Wyman with the Ukrainian government, is in its testing phase, Julian Enoizi revealed to GR.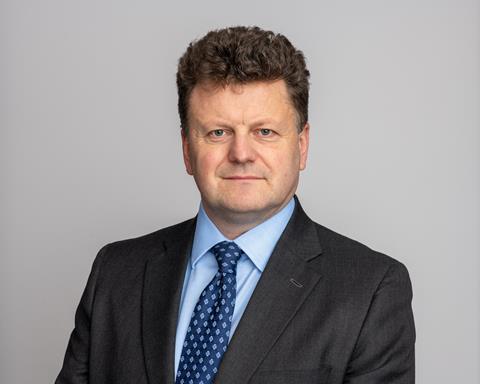 Plans for the re/insurance industry to play an important role in the rebuilding of Ukraine are ongoing. GR recently caught up with one of the leading figures in this most ambitious of multilateral public-private partnerships, Guy Carpenter's European CEO, Julian Enoizi.
In June, Guy Carpenter and its parent Marsh McLennan recommended the creation of a war risk pool to re/insure the reconstruction work needed to rebuild Ukraine's infrastructure and economy – contributing to an endeavour previously estimated at $400bn or more.
The war risk pool announcement was timed for a meeting between G7 political leaders and finance ministers for a Ukraine Recovery Conference (URC) in London, jointly hosted by the UK Prime Minister Rishi Sunak and Ukraine's President Zelenskyy.
The insurance aspect of supporting Ukraine includes several work streams: developing the war risk pool concept; enhancing access to data on war risks to enable underwriting and informed investment decisions to be made; and renewed attempts to insure Black Sea grain shipping after Russia pulled out of the Black Sea Grain Initiative.
"What began as a UK Foreign Office-led project has morphed into something much more," says Enoizi. "Next year's URC will be in Germany, and the German government will be focusing on the various types of structures that can be used to finance reconstruction."
A historical parallel with the URC's efforts might be the Marshall Plan, the US-led reconstruction effort to rebuild Germany and Western Europe after the Second World War. However, unlike the point at which that plan was drawn, the war in Ukraine is still far from finished.
"I think the insurance industry wanted to wait until after the war, but the government doesn't. The Ukrainian government can't afford to wait until after the war to rebuild things, because it needs infrastructure now, and I think most Western governments didn't want to simply wait until the war is over," Enoizi says.
"Of course, the Ukrainian government also doesn't want to rebuild Ukraine to the way it was before; it wants to build Ukraine into a more modern society, with modern infrastructure, technology, communications and construction," he adds.
Insurers could be forgiven, of course, for not wanting to offer fire insurance for a building already ablaze. However, the question of whether blanket reinsurance exclusions should be applied from one end of Ukraine to another is moot.
Developing better data might make the problem more solvable, even while the conflict rages on, Enoizi suggests.
"Immediately after the URC event, John Doyle, Marsh McLennan group CEO, agreed in London with the Ukrainian government to work on a data platform, and I can tell you that it has now been built, and is in testing," he says.
"We have built a platform for underwriters to use. The data set comes from the only place it could come from, the Ukrainian government. They input where an event occurs, how much damage was done, what type of weapon caused it, etc," he continues.
"So, you've now got a database of information, from which you can start to refine the structures that are going to be necessary," Enoizi adds.
For a war risk pool, the combination of different coverage types that would need to be factored into reconstruction is a significant complication. He lists several of the insurance types involved, most of which are subject to war risk reinsurance exclusions, meaning most insurance risks are being underwritten net.
"You've got property and construction insurance, which is applicable to the rebuilding, but you've also got marine cargo insurance to transport the construction materials in the first place. Then you've got other political risk type covers, to protect investors that would be coming in. So, you've got completely different types of insurance, different carriers, different kinds of exclusions and different markets," he says.
In September, Enoizi stepped up to his present European CEO role, from his previous position as global head of public sector at Guy Carpenter. It was within this public sector role for the reinsurance broker that he engaged on the issue of reinsuring Ukraine war risks over the past year.
Enoizi's working partner at Marsh McLennan on all matters Ukraine has been Crispin Ellison, public sector practice partner at Oliver Wyman, the management consultancy and sister company to Guy Carpenter.
"One of the most impressive things about these efforts, and a point about which I've been very vocal previously, is the need to make reinsurance more advisory led," Enoizi says.
He remains Guy Carpenter's chairman of public sector solutions, an area of expertise honed during his nine years as CEO of Pool Re, the UK Treasury's terrorism risk reinsurance public-private backstop.
Working with the Ukrainian government, he speaks with admiration about the manner in which they have engaged with the re/insurance sector to think their way through many challenges that lie ahead, and their impressive capabilities in data and technology that they have demonstrated through the war-risk data platform work
Ukrainian buy-in has been "at all levels, right across government", Enoizi explains.
Discussions have not focused on a single government department, but seen significant involvement from various ministries, from the economy, defence and security, to the regulatory authorities and National Bank of Ukraine.
He adds: "What's most impressive about the work towards a war risk pool, is how the Ukrainian government, which, naturally, has many other priorities, has invested time in understanding the power of insurance and reinsurance, and what the industry can offer to try to solve problems that would otherwise look insoluble."