The All England Lawn Tennis Club says its courts are 'as good as they have always been'
Insurers could be bracing for claims following star players Serena Williams and Adrian Mannarino slipping on court and injuring themselves during the Wimbledon tennis championship on Tuesday (30 June 2021).
According to BBC News, the All England Lawn Tennis Club (AELTC), which runs the Wimbledon championship, defended the state of its courts against mounting criticism as tennis players continued to suffer slips and falls on Wednesday 30 June.
Williams, who is a 23-time grand slam champion, appeared to twist her ankle in the fifth game of her match against Aliaksandra Sasnovich - she was subsequently forced to withdraw.
The courts at Wimbledon have not been played on for two years during the Covid-19 pandemic lockdown, however the AELTC said the courts are "as good as they have always been".
A spoksperson for AELTC told Insurance Times: "The preparation of the grass courts has been to exactly the same meticulous standard as in previous years.
"Each grass court is checked by the Grand Slam supervisors, referee's office and grounds team ahead of play commencing and on both days of the fortnight, they have been happy with the conditions and cleared the courts for play.
"The weather conditions on the opening two days have been the wettest we have experienced in almost a decade, which has required the roof to be closed on Centre Court and No.1 Court for long periods. This is at a time when the grass plant is at its most lush and green, which does result in additional moisture on what is a natural surface.
"We will continue to monitor these readings and adjust our care plan for the grass appropriately."
Wimbledon had an estimated insurance payout of around £114m following its decision to cancel its tennis championships last year due to the onset of Covid-19. It later announced that this year's championships would not have pandemic insurance.
Slips and trips
The head of courts at Wimbledon Neil Stubley said that with the "roof being on, it is taking a little longer for the moisture to be evaporated".
Australian player Nick Kyrgios deemed the courts a "joke".
Meanwhile, Stubley explained that as the sun and wind dry the grass out, it becomes harder. The players therefore feel a lot more confident during the second half of the first week.
Speaking on BBC TV, three-time Wimbledon champion Boris Becker said: "The courts haven't been played on in two years. They are almost too perfect, too green and lush.
"Having said that, I've seen slips and slides every year in the first couple of days. I don't find it that unusual, it's just that we haven't been here [since 2019]. We're not used to seeing players slide like that.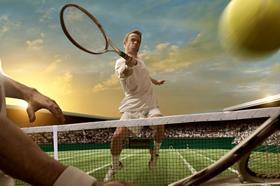 "This is the grass court. It did rain a lot, but the first couple of days it is always [slippery]."
On day three, John Isner suffered a fall during his match against Yoshihito Nishioka on court 18, but was able to continue.
Canadian fifth seed Bianca Andreescu slipped on several occasions during her first-round defeat by Alize Cornet.
Christian Harris, founder of Slips Safety Services, said: "This issue highlights the risks that can be posed by slips and falls.
"Whilst often these are seen as not too serious, 300,000 plus accident and emergency visits a year are a sign that, when it's not elite athletes falling over, injuries can be severe.
"It's also a learning point that things change - Wimbledon wasn't expecting this to suddenly be a problem, yet it is."
"With 33% of claims by volume and value being slips-and-falls, companies should regularly update their slip safety risk assessment."
Commenting on LinkedIn about the spate of slips and trips at Wimbledon, Harris pointed out that there are six reasons that people slip.
These six factors are known as the CHIMES:
Contamination.
Heel.
Individual.
Maintenance.
Environment.
Surface.
The AELTC spokesperson continued: "With each match that is played, the courts will continue to firm up.
"The grounds team and Sports Turf Research Institute (STRI) take hardness readings every morning in order to ensure that the courts have the right level of moisture and are playing consistently.
"Our long-serving grounds team have experienced nearly every combination of weather conditions possible. They keep abreast of and utilise the latest grass court technologies, prepare for every weather eventuality and react to the current conditions on a daily basis."