Stephen Catlin spoke on innovation at the MGAA Annual Conference 2017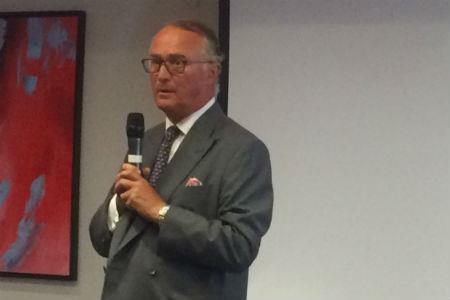 Underwriter and broker jobs will be lost to pending modernisation, according to Catlin Group founder and XL Catlin executive deputy chairman Stephen Catlin.
Speaking at the keynote for yesterday's Managing General Agents' Association (MGAA) Annual Conference 2017, the soon-to-retire Catlin Group founder said that while job loss was unavoidable, there was still a knowledge play for the industry.
When questioned on the role of the underwriter and broker in the face of full automation, data analytics and AI coming to fruition, Catlin said:
"Jobs will be lost. There's no doubt about that. Jobs will become redundant, there's no doubt about that. But there comes a point where advice and judgement is required – analytics, data, and process can't do everything above a certain level."
He added: "I personally believe that for the broker and the underwriter, the role where human intervention is required to understand a risk, or make a judgement of a risk, or price a risk, those jobs are here to stay forever."
During his speech, Catlin was far from adverse to innovation, stating: "There is no doubt in my mind that we are living in a changing world. The insurance world that we know today is going to be very different within five years, and if we don't embrace change, we're going to lose out."
He explained that he believed the industry needed "a better understanding of AI, and the ability to capture data in different formats" and added: "This is here now, if we know how to use it. And if you want to succeed in business, you better get up to speed on that one."
Catlin also stated that he was keen to help the London market explore the Internet of Things in his retirement.