Accidents like the Deepwater Horizon oil spill have woken underwriters up to the fact that offshore energy operations require much more complex cover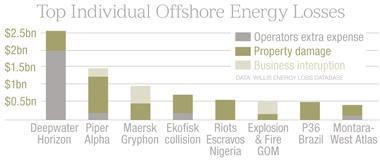 The $4bn payment from Anadarko Petroleum to BP that settled claims relating to the Macondo oil spill last year underlines the difficulties underwriters face in assessing liability of offshore drilling platforms.
The settlement ends a long dispute between BP, which operated the well in the Gulf of Mexico, and Anadarko, which had a 25% stake, about accepting responsibility for one of the worst oil spills in US history.
But, while the settlement was a fillip for BP, it is still at loggerheads with two other contractors: Transocean, which operated the rig, and Halliburton, which was responsible for cement work.
Marsh managing director and US upstream energy practice leader Andrew Steptoe says: "What we have seen since Deepwater Horizon is that the drill operators and suppliers are seeing significant changes in how their programmes are structured. Underwriters are requiring more information and there is a lot of focus on the operations. Underwriters have woken up to the fact that in drilling there are many companies involved in any one project.
"One of the interesting things is that the whole contractual relationship between the parties involved in the drilling of a well is changing, with everyone trying to limit their own liability and pass it on to the operator. It is a little early to say how that will impact the insurance market," Steptoe adds.
Regulation changes
The Deepwater Horizon explosion in April last year was a landmark in many respects and it has altered the industry in the USA.
Lloyd & Partners energy and marine team senior partner John Cooper says: "One of the biggest changes was in the oil industry itself and that was regulation. A lot of our clients in the UK, Australia and Norway, etc, said the Macondo loss would not have happened in their countries because the regulation is completely different. The US rules regarding deepwater drilling have now changed significantly."
Deepwater Horizon was just one of several headline-grabbing losses that have hit the offshore energy and marine markets over the last couple of years. Cooper says: "Of course, Deepwater Horizon would have been a horrendous loss to the market if BP were a buyer of insurance. Maersk Gryphon and other sizeable losses should be absorbed by reinsurers or were retained by the front-end market but have not resulted in any significant withdrawals of capacity, so this will limit underwriters' attempts to raise prices.
"Despite significant losses, there's been no reduction in capacity, other than in the liability area, and for most insurance buyers there is ample capacity for the limits they want to buy and until that withdraws, pricing is not going to increase significantly. We are seeing rises of 10% here and there, but that's it."
The nature of the losses has also changed, with insured losses from two of this year's largest energy claims, the storm-damaged Maersk Gryphon and the Alberta Horizon oil sands fire, increasing due to business interruption (BI) claims.
"BI claims were a big piece of the Maersk Gryphon [loss]," Steptoe says. "From that the lesson is: should you be writing BI?"
The situation has got to the point where Lloyd's performance management director Tom Bolt felt it necessary to write an open letter warning the market. He said: "Aggregations [in the offshore energy book] are difficult to assess and manage owing to the lack of transparency associated with package policies. This approach is not sustainable; there is a material imbalance between premiums charged and exposures assumed.
Modest returns
"The economics simply don't work. It is not only underwriters who have been left disappointed by the offshore energy class, as capital providers have received only modest returns for what is a very capital intensive line of business. Could better returns have been made had capital been deployed elsewhere?"
Bolt set out a number of best practice guidelines and pre-conditions and warned syndicates that if they were not followed, next year's business plans would be subject to veto.
Key among these was the demand that OEE (operators' extra expense), which includes well control, drilling and pollution and is known as blowout insurance, is written into the liability policy rather than classified as physical damage and that liability risks are underwritten on a standalone basis not in packaged policies.
"OEE has not been the problem in our view and underwriters have been writing it for many years without any significant problems. Our view is that the market will find its correct price for a product and what it covers should be for individual underwriters and the market as a whole to determine," Cooper says.
Steptoe adds: "Bolt's concern is with the energy liability market and he feels there has been a lack of discipline in how that market has been underwritten.
Bolt needs to be aware that this is a supply and demand market and Lloyd's is just one of many markets around the world." GR