Global Reinsurance spoke to ICEYE's Andy Read at this year's RVS in Monte Carlo about the critical role of hazard data in supporting public-private partnerships and how the satellite-data company is working with governments to improve disaster response.
The rapidly intensifying impact of climate-related perils such as flood and wildfire is driving a need for greater collaboration between the public and private sectors. How can ICEYE support such collaboration?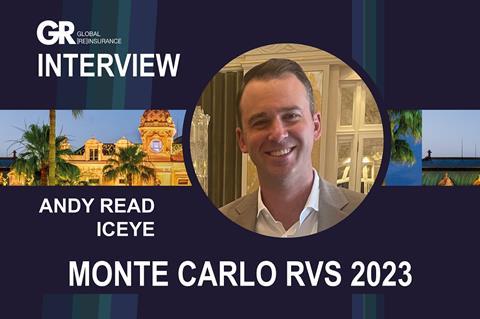 ICEYE can play a critical data role in enabling the development of public-private partnerships to help reduce the expanding protection gap. Our ability to deliver geospatial impact information in near real-time before, during and after a major flood or wildfire event globally bridges a key information gap that has limited the potential of solutions such as parametric insurance to provide cover quickly and efficiently to vulnerable communities.
Can you expand on what you mean by bridging the information gap?
A parametric insurance solution is heavily data dependent. The associated trigger mechanism is built upon a specific threshold which when breached can result in automatic payments in the immediate aftermath to those most affected.
Those triggers are reliant upon having access to accurate, consistent, verifiable data as quickly as possible in the event of a loss. The observation-driven analysis that ICEYE conducts via its satellite constellation and access to auxiliary ground-source data provides that high-resolution insight often within 24 hours of a flood peak or a wildfire impacting a built-up area. That speed and data clarity is key to unlocking parametric potential.
ICEYE was recently involved in the launch of a flood-related parametric pilot programme for the City of New York. How was your data been used in this initiative?
The programme was a first-of-its-kind multi-agency parametric solution for low- and moderate-income communities in New York City exposed to flood. The programme, which was placed by Guy Carpenter with capacity provided by Swiss Re, was sponsored by the National Science Foundation, NYC Mayor's Office and the Center for NYC Neighborhoods.
By combining satellite imagery with ground-source data including information from NYC's Flood Net water sensor network, ICEYE can quickly provide detailed information on the flood extent and depth at the building level. This enables Swiss Re to carry out rapid analysis of the loss even in densely populated urban areas and ensures speedy payments to those impacted if an event triggers the insurance structure.
ICEYE also recently announced that is has been selected by the Australian Government to provide flood and bushfire hazard data. How significant is this development?
Australia has experienced recording-breaking flood and bushfire events in recent years that have had a devastating impact on individuals, communities, and the country as a whole.
Prior to the announcement, ICEYE had already been working with the Government using its Flood Insights product to support response and recovery activities for over 30 agencies across the region. Our hazard data was used during eight major flood events to enable more targeted response efforts and quicker disaster relief assistance.
With this new agreement, we will now be providing both flood and bushfire data to all government agencies to help improve event management capabilities, as well as enhancing coordination between local and national entities.
Do you see the ability to supply this hazard data to governments becoming an increasingly prominent component of what ICEYE delivers?
Absolutely. We know that governments across the world are coming under increasing strain both from a financial and resource perspective.
We have been working with FEMA and other agencies in the US recently to support disaster declaration efforts, with our data supporting resourcing, search and rescue, and economic impact decisions for eight major floods, while our wildfire data has also been used to support response activities during recent wildfire events.
The ability to achieve near real-time situational awareness as a major disaster is developing is major step forward in how governments and insurance companies can respond and take decisive action that will improve outcomes for those most affected.