Michael Wade, former crown representative for insurance, who pioneered London market ILS legislation, shares his hopes and expectations for the growth of capital markets risk transfer in London.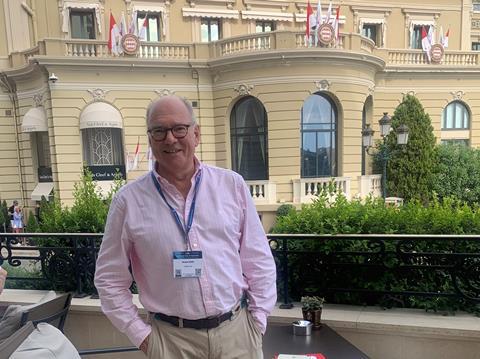 The growth of insurance linked securities (ILS) in the London market could be starting to take off in the next few years, with initiatives such as the Lloyd's market's London Bridge 2 project gathering steam.
That's the view of Michael Wade, non-executive chair of Howden Tiger Capital Markets and Advisory, speaking to GR in Monte Carlo at the Rendez-vous de Septembre.
The legislation he pioneered while serving as crown representative for insurance is being used by the likes of Howden Tiger, Ariel Re, Helios and the Lloyd's market's London Bridge 2 project.
"In five to 10 years I expect a $10bn plus market for ILS in London. I'll be very disappointed if London doesn't reach that," Wade said.
"Why isn't the UK pension market, which is an huge sector, investing in ILS risk transfer, as a following market to support Lloyd's and London market business?" he asked.
Casualty business and US excess and surplus lines and casualty business would be ideal to drive London's ILS expansion, he suggested.
Tax efficient cell structures mean that London market ILS is "like having Bermuda in London", he suggested.
"The $100bn ILS market is very small in London. Bermuda and the Cayman Islands have had a 30 year head-start, bringing capital and risk together in a cost-effective way," he said.
"My hope and expectation is that London is going to be the go-to place for risk transfer capital markets," Wade added.
A self-described "seasoned non-exec", he also serves as chairman of Helios Underwriting and as a senior advisor to Mitsui Sumitomo, owner of MS Amlin and Leadenhall Capital.
He has spent his career working with the London market since 1975 culminating in his appointment in 2013 as the crown representative for insurance at the Cabinet Office to advise the UK Government on insurance and reinsurance risks.
This included Pool Re, the formation of Flood Re and other projects until 2015. He also advised successive Chancellors of the Exchequer on the insurance linked securities (ILS) markets. From 2015 to 2020 he served as a senior advisor to the Cabinet Office.
The UK regulator will need to play its part if Bermuda is to come to the banks of the Thames, however.
Promoting growth and competitiveness has become part of the Prudential Regulation Authority (PRA) mandate under the Financial Services Bill, already in law, Wade noted.
"Regulation is primarily about culture. Culture is what's most important, rather than the rules," he said.
"It's their primary objective to regulate the market, but it's their secondary objective is to put growth and competitiveness at the heart of the regulatory landscape," Wade continued.
"That cultural change needs to be embraced. There's a little way to go," he added.