Reinsurance broker Guy Carpenter used its pre Monte Carlo briefing to underline the continuing hard market pressure on clients and their brokers.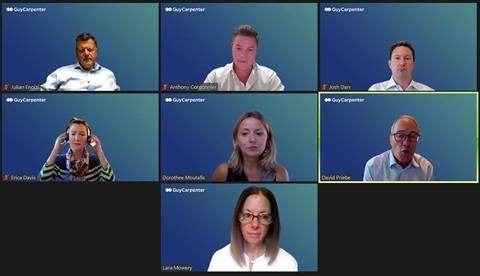 Reinsurance markets are expected to stay disciplined at upcoming renewals, keeping the pressure on cedants and brokers, Guy Carpenter has emphasised.
Where new capital is coming into the sector, such as a strong year experienced for catastrophe bond issuance, this would not change the broader hard market supply-demand dynamics, with no weakening in pricing anticipated, the reinsurance broker said in its pre Monte Carlo briefing.
Insurers, on the other hand, are still digesting the effects of the previous 1/1 market turn into their own portfolios, according to the pre RVS briefing, entitled "A New Cadence".
"Heading into January 2024 renewals, we believe demand for reinsurance will grow with reinsurers' willingness to deploy capital also increasing—although underwriting discipline will not subside," said David Priebe, chairman of Guy Carpenter.
"The previous January 1 renewal was one of the most challenging reinsurance markets this sector has ever experienced," said Priebe.
New capacity was made available at Spring renewals, he suggested, but that this had "adhered to market corrections did not soften conditions".
From a cedants' perspective, this led to "improved timings" after the disorderly previous 1/1, but buyers still faced a disciplined reinsurance market, exhibiting "concurrence around terms and conditions", and "property remains firm".
Casualty lines are regarded as "stable", the broker suggested, but remain under pressure, due to inflation and social inflationary pressures.
"Thorough preparation and thoughtful differentiation will enable cedents to adjust their own approach and leverage a range of solutions to transform risk into profitable returns," Priebe added.
The reinsurance market continues to demonstrate its resilience in response to ongoing and new global challenges, he emphasised.
"Reinsurance industry veterans know this significant level of uncertainty is where our sector shines," Priebe said.
"Strategically transferring risk is our specialty and through innovation and collaboration we not only generate stability, but also opportunity…A new cadence has emerged, and we are equipped to thrive amidst this new normal of interconnected and perpetual risk," he continued.
Capital markets
Cedants have by now had time to adapt to 2023's hard reinsurance market, Lara Mowery, Guy Carpenter's global head of distribution, noted.
Some will be able to use higher premium revenues to spend more on reinsurance, while others have begun to look at captives as an alternative, or else shift their portfolios to cope with the changed market environment.
"In some cases, cedants' greater retention…has led to pent up demand for reinsurance, with higher reinsurance pricing and structural requirements on cat programmes," Mowery said.
Mowery also provided the latest data on the reinsurance market's capital positions, stating that currently Guy Carpenter and AM Best jointly estimated that the total dedicated reinsurance industry capital at $560bn, an increase of 5.6% over 2022 adjusted levels and nearing 2021 totals.
Against this improving capital backdrop, she highlighted the strong performance of the catastrophe bond market.
"The catastrophe bond market is experiencing a record first half of the year," Mowery said.
"By June 30, 41 different catastrophe bonds were brought to the 144A market for approximately $9.2bn in limit placed, taking the total outstanding notional amount to over $37.8bn," she continued.
"Moving forward, we expect this positive momentum to remain as reinsurers continue to manage volatility and investors increase activity in this alternative asset class," she added.
Supporting Ukraine
Guy Carpenter's new CEO for Europe, Julian Enoizi, provided an update on the reinsurance broker's work on placing systemic risk transfer for governments, including public private partnerships, such as to insure war risks in Ukraine. Public private partnerships were Enoizi's focus until his new role was announced a few days ago.
Enoizi highlighted the work of Guy Carpenter and Oliver Wyman in advising the UK and Ukrainian governments on how to attract approximately $1trn of investment to fund the reconstruction of Ukraine, during and after the ongoing war in the country.
The two entities within the Marsh McLennan Group have jointly analysed the challenges of Ukrainian war risks, to design a solution to allow risk transfer capital to play a greater role.
"We've gone on to design and build a data platform for use by underwriters to assess and price risk, as well as a solution to support the Black Sea shipping of grain from Ukraine, which has been threatened by Russia's withdrawal from the previous arrangement that was in place," Enoizi continued.
"Drawing on the expertise of our sister companies further enables delivery of holistic solutions and most effectively leverages the power of our analytics and advisory capabilities to design solutions aimed at addressing ever-changing, complex risks," he added.