The music lobby group is working with the government to identify how it can hold live music events safely and reduce the risk of contracting the virus
Industry lobby group UK Music is urging the government to underwrite festival insurance schemes like the support it gave the film and TV industry.
According to the group's latest report – Let the Music Play: Save our Summer, it calls on the Department for Digital, Culture, media and Sport Select Committee for help that as insurers are unwilling to provide insurance due to the uncertainty of further Covid-19 restrictions.
The report warns that the lack of Covid-19 cancellation insurance is the "biggest barrier" to major events happening this year with March to September being the main window of operation for festivals. British theatres are in a similar dilemma.
UK Music chief executive Jamie Njoku-Goodwin said: "While this pandemic is still raging and continues to cause devastation to lives and livelihoods today, there is an endpoint in sight.
"Government is rolling out the vaccine and is openly speculating about returning to normal by the spring – but there is a serious risk that even if this proves to be a reality, lack of notice and available insurance options will mean much of the 2021 summer music season can't go ahead."
The Association of Independent Festivals (AIF) the pandemic resulted in a 90.2% drop in revenue for festivals in 2020 and fears of redundancies of up to 50%.
It follows the UK being plunged into another full lockdown earlier this week as coronavirus cases in relation to the new variant soared.
The clock is ticking
Njoku-Goodwin added: "We are working with government to develop guidance for how to hold events safely and engaging with testing pilots to make sure infections are not brought into live music events.
"We are looking at new ventilation and air purification systems that would dramatically reduce the risk of transmission."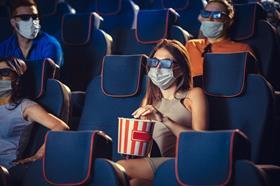 UK Music is also proposing an enhancement to "Hands, Face, Space" which puts the responsibility for making environments safe onto venues rather than individuals.
He said that with the right support the live music industry could be at the forefront of post-pandemic recovery and play a key role in the UK's economic and cultural revival.
He continued: "In this report, UK Music is putting forward a clear plan for recovery: what we need to do to get the live performance sector back up on its feet again in 2021.
"But the clock is ticking, and any day soon we could see major festivals and events start pulling the plug for lack of certainty."
The report said: "Most festivals and GMVs did not have insurance which covered communicable diseases at the outbreak of the pandemic and many existing policies specifically excluded Covid-19.
"The commercial insurance market is not currently offering any Covid-19 cancellation policies whatsoever for festivals and this may be the case until 2022."
Although he stressed that there would need to be "concerted effort from industry and the government" together to make it work.
The impact has been felt across the music industry, with up to 80% of music creators' income in 2020 to be lost.
There are also fears up to 71% of musicians either actively considering leaving the sector or are unsure if they will continue as cited by a survey by the Musicians' Union.
More than 90% of music festivals that were scheduled for 2020 were cancelled according the AIF.
The live music sector has drafted a proposal for a reinsurance scheme to cover events from any indicated re-opening date in 2021 to December 2022.