Chief executive believes the insurer is in a 'great position to capitalise' on the 'the opportunity in the cyber market'
Insurer Beazley has reported a 29% improvement in its gross written premium (GWP) for quarter three of 2021 – as at 30 September 2021, its GWP stood at $3,271m (£2,435m) compared to $2,534m for the same period in 2020.
These figures were revealed in the insurer's quarter three financial update, published today (5 November 2021).
Beazley recorded a "higher than expected" GWP increase across all of its divisions for 2021's third quarter.
This included a 44% improvement in its cyber and executive risk book, with GWP moving from $686m in Q3 2020 to now stand at $991m, as well as a 31% growth in specialty lines, as GWP increased from $745m last year to $979m in Q3 2021.
The insurer added that cyber and executive risk rates had increased by 48%, while its specialty lines book had benefited from the hard market, seeing rate increases especially escalate within international financial lines products.
Property GWP also grew by 23% between Q3 2020 and Q3 2021, moving from $354m to $435m.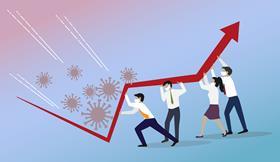 However, the "contingency market remains in a relative state of flux as a result of Covid-19 and growth is slightly below expectations within our [Pacific] division," Beazley said.
"We expect to see a more predictable environment by early 2022."
'Exceeding expectations'
In terms of claims, Beazley has estimated European flood losses at $40m.
It is also continuing to see a "downward trajectory" in the frequency of ransomware claims, which the insurer attributes to the remediation work it has been undertaking since October 2020. The exposure growth within its cyber book during 2022 is therefore based on these trends continuing.
Beazley predicted that its full year combined ratio is expected to hit the mid-90s.
Speaking on the results, Beazley's chief executive officer Adrian Cox said: "I am delighted that the momentum from the first half has persisted into the second, with rate rises and premium growth that have exceeded our expectations.
"We continue to be strongly capitalised and are well placed to take advantage of these favourable market conditions.
"I remain excited about the opportunity in the cyber market and with our disciplined and prudent risk selection, our market leading product offering and the ongoing investment in our cyber infrastructure, I believe we are in a great position to capitalise on this."
Commentary by investment banking company Jefferies added: "Premium growth of 29% for the first nine months, driven by 23% rate increases, demonstrates that Beazley has been able to grow volume into the hardening market.
"Catastrophe losses ($125m) were higher than we expected ($107m), however the FY21 combined ratio guidance of mid-90s is in line with our expectation."