Supply chain vulnerabilities were also cited as a risk by the insurer
Brexit continues to be a major concern for British businesses, according to new research from insurer Aviva.
Its latest Risk Insight Report 2021, published this week, found that 25% of businesses believe Brexit is one of the largest risks they face - company leaders ranked it as the fourth biggest risk on their agenda.
Additionally, 78% of businesses said Brexit is the risk they are most worried about, while 70% think it is the second most urgent risk to address. Plus, uncertainty around trading after Brexit was the risk businesses thought was most likely to be given too low a priority (24%).
Aviva's report is based on interviews with 1,251 business leaders from small, medium and large UK enterprises. This revealed that economic concerns, staff shortages, Brexit and reputational loss have all weighed heavy in business bosses' minds this year.
Aviva's chief executive of general insurance for the UK and Ireland Adam Winslow said: "Businesses have really shown their mettle over the last couple of years, adapting to an ever-changing set of urgent risks.
"The year ahead is likely to pose continued challenges, including the threat of flu and Covid-19 this winter, as well as seasonal weather events, both of which could put additional pressure on staffing shortages and supply chains.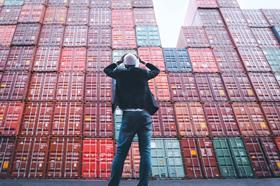 "Now is the time for businesses to double down on their risk management and business continuity planning to prepare for a wide range of potential stresses and risks.
"Business continuity plans should be regularly tested. And risk management strategies should – if not already – be at the centre of an organisation's planning and strategy so that [it] can best prepare and protect themselves from a range of extreme and high risk events."
Most pressing risks
Small, medium and large businesses in the UK face a "host of pressing and interconnected risks" emerging from the Covid-19 pandemic, according to Winslow.
Economic concerns was the top risk listed by British businesses (37%), followed closely by a shortage of skilled workforces (28%). Just 8% of businesses said climate change is a top five concern.
Winslow added: "Climate change is noticeably absent in business leaders' top risks. It cannot be dismissed as someone else's responsibility.
"COP26 has shown us that businesses have a key role to play in tackling climate change and their commercial operations and reputation will be under threat if they fail to take action."
Another risk cited in the research was the shortage of skilled labour - 28% of businesses said this was one of its most pressing risks. This rose to 38% for mid-sized businesses and 40% for corporates.
In Aviva's research last year, a shortage of skilled workers ranked as the 8th largest risk for UK businesses, but this shot up 11 percentage points this year to rank second.
For example, 69% of businesses said they were worried about this and 71% think that solving the worker shortage is urgent.
Supply chain vulnerabilities were also identified as a problem by organisation leaders. More than half (53%) of businesses are undertaking, or plan to undertake, changes to de-risk their supply chain.
More than a quarter (26%) of businesses are managing the increased supply chain risk by investigating cost cutting (26%) or by avoiding potential reputational risks (14%).
Meanwhile, 19% of bosses said Brexit forced a change in their supply chain, while 18% said they amended their supply chain after Covid-19 pandemic induced disruption.
Businesses in the manufacturing sector were most likely to review or change their supply chain practices (77%).
The top risks facing UK businesses
| 1. Economic concerns (37%) | 7. Changes in legislation and regulation (22%) |
| --- | --- |
| 2. Shortage of skilled workforce (28%) | 8. Cyber security (20%) |
| 3. Loss of reputation and brand value (26%) | 9. Market developments – for example, M&A (17%) |
| 4. Impacts of Brexit (25%) | 10. = Mental health and wellbeing of employees (16%) |
| 5. = Public health events – for example, Covid-19 (24%) | 10. = New and changing technology (16%) |
| 5. = Business interruption including supply chain (24%) | 11. Climate change (8%) |
*The table ranks the top risks by the % of businesses that said a particular risk is one of the five risks they are most exposed to. The list contains 11 risks due to a joint 10th place. There is also a joint 5th place.
Interconnected risks
Winslow added: "While some risks are not wholly in our control, there is much we can do to mitigate them. Concerns about the economy, the workforce and the trading environment cannot be seen in isolation and the risk they pose can be reduced through foresight, careful planning and active management.
"How a business charts its course through these risks will have a direct impact on its reputation with both customers and employees."
Last year, 46% of business leaders ranked public health events in their top five risks, making it the top risk facing businesses, according to Aviva.
But, with the rapid rollout of the UK's vaccine programme, this dramatically fell in 2021 to just 24%.
However, public health events are still seen as the fifth largest risk facing businesses.
Although Covid-19 is no longer viewed as the top risk facing businesses, according to respondents, the report pointed out that it underlines the interconnected nature of risks today because the pandemic is at least partly responsible for many of the top 10 risks found in the report - from economic concerns post-lockdown to supply chain disruption.